Boko Haram abducts 80 children, others in Cameroon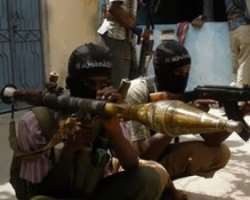 Suspected Boko Haram fighters have abducted 80 people, including children, in a deadly assault on villages in northern Cameroon, officials say.
Government spokesman Issa Tchiroma Bakary confirmed that three people had been killed in the attack, which had targeted the village of Mabass and several others along the Nigerian border.
He said soldiers had intervened and exchanged fire with the assailants for around two hours.
He added that up to 80 houses were destroyed, but did not specify the number of people kidnapped.
However a senior army officer in northern Cameroon said around 30 adults, mainly herders, and some 50 children aged between 10 and 15 were taken.
Source: Sky News