Despite our challenges, Nigeria will get to promise land - Jonathan assures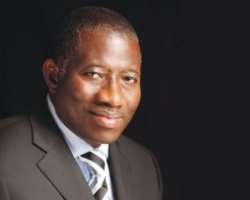 In spite of the challenges confronting Nigeria at the moment, the nation will get to the Promised Land, President Goodluck Jonathan has assured Nigerians.
According to President Jonathan, who participated in the first Sunday of the year service at St. Stephens Anglican Church, Otuoke, Bayelsa State, huge potential abound in all parts of the country, adding that he sees a bright future for the country.
In his short remarks, the President said his administration would continue to tap into those potential to move the nation forward.
He added that the country's future was bright, despite the challenges confronting the nation.
He used the opportunity to thank the church and Christians for praying for the nation, stressing that the period was a challenging one, not only for the country, but the whole world.
He stated, 'I thank you for your prayers, especially at this period. This is a period the world is passing through challenges.
'We have a lot of potential and I see a bright future for the country. Despite the challenges and bumps, Nigeria will move on and get to the Promised Land.'
In his sermon, the officiating pastor, who is the Bishop of Ogbia Diocese, Rev. James Oruwori, had urged the congregation to avoid committing sin and strike a strong covenant relationship with God to be able to fight their battles.
He used the example of David and Goliath in the Bible, saying the former's strong covenant with God gave him victory.
He urged Nigerians to remain calm ahead of the forthcoming general elections, adding that God had already taken a decision on the outcome