What a joy to be among the living at a time like this!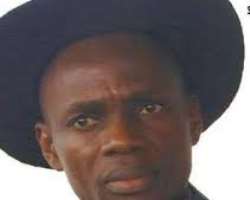 For the next few days, I want to share with you thoughts God has put in my
heart for 2015. I trust that you will be blessed.
Joel 2:21-27 is our scripture for the year.
The first instruction God gives us is: FEAR NOT! That is a command not a
suggestion.
Fear has been proven by medical science as the root cause of over 80
percent of all sickness and disease.
In Luke 21:26, Jesus tells us that fear is what causes heart failure. Your
heart is the control center of your entire existence. This year, you must
protect your heart from fear. Do not allow this spirit of fear affect the
control center of your life. Rather, establish the Lordship of Jesus
Christ in your heart. As long as He is the Lord and your Source, your
heart will be rest assured for the entire year in spite of the things that
will come your way that causes fear in others.
Medical science confirms the failure of our body organs due to negative
emotions like fear. Grief and sadness affect your lungs. Acute emotional
tension and worry affect your throat. Anger and rage can explode your
liver causing serious gall bladder dysfunction that creates migraine, red
bloodshot eyes, muscular tension in the neck and shoulders.
This year, you must get rid of fear from your heart and all the other
negative emotions.
Decide from today, I WILL NOT BE AFRAID. Shout it a thousand times a day.
Why FEAR NOT? Joel 2:21 says, The Lord will do great things. Yes, great
things are about to happen to you that will suck up every fear in your
being. Instead of looking at the things that cause you to be afraid, look
at the great things God is doing behind the scenes that will become
manifest soon.
For your heart to function well, you need to focus on energy building
emotions like compassion, love, the eagerness to help someone in need, the
joy of seeing people free from sin, sickness and spiritual death.
Expect great things to happen to you in 2015. NO MORE FEAR!
It is well!
Yours truly,
In covenant bond with Jehovah,
Bishop Michael O. Amamieye
Evangelist/Teacher to the Nations
www.aggressivefaith.org
Hotline: +234-803-673-2188
In the United States of America: +1-612-235-6627
In the United Kingdom, +44-7706888631
MINISTRY UPDATE
1. I really want to THANK YOU again for all your support in 2014. You
helped us to fulfill the great commission in 20 nations that I was able to
travel to. We have seen many saved, healed, delivered and blessed because
of your support. Your reward is coming this year.
2. As this year begins, I want to specially request that you prayerfully
consider partnering with us again. We need you to continue doing the great
work we are doing with our King Jesus Christ around the world.
3. This month, we are reaching the United States as I minister in New York
January 9, 2015 and Nashville January 11, 2015. I will go on to Brampton,
Canada (January 14 to 18, 2015) to do one of our Schools of Evangelism
where we trust the Lord to train several dozens on evangelism and soul
winning. We will also have a practical session where I will lead them out
to a mall for evangelism. Please, I need your support. Pray for me. Plant
your firstfruit this year to secure the rest of your harvest.
4. January 15, 2015, our ministry will be twenty five years since I
started this global evangelistic ministry. Please, on that day, give
thanks to the Lord for helping me to stay focus all these years. I had
many opportunities to go of course but God sustained me. I have suffered
many things with my family but God sustained us. I have labored to the
point of death but God in His mercy brought me back to life to finish what
He has called me to do. May be later in the year, we might have a
celebration to commemorate twenty five years of itinerant evangelistic
ministry with tremendous impact on sixty nations.
5. Please, pray and partner with us as this year, our focus in ministry
will be continuing in doing Schools of Evangelism in churches and cities
as the Lord opens the doors; we are launching FORUM FOR EVANGELISTS this
January 23 and 24, 2015 at our office at 120 Rumuola Road, 2nd Floor, Port
Harcourt, where we will be building up younger evangelists to keep doing
the work and our Conferences for Evangelists will be held in Lagos,
Nigeria; Abidjan, Ivory Coast and Nairobi, Kenya. Through these
conferences, we will empower younger evangelists with training materials
of over two hundred books and give them our ministry platform to express
their gifts and callings in the nations. I have a dream to buy plane
tickets for several of them to the nations where they will have great
crusades and conferences. We will take care of their hotel accommodation
and feeding. It is a dream that shall come to pass with your support.