Borno PDP Felicitates With Citizens, Calls For Support For Imam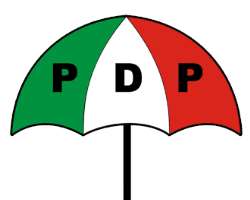 The PDP Leadership Forum has congratulates the leadership of the People Democratic Party, PDP at all levels for choosing a sure horse. Mohammed Imam, as the PDP governorship candidate in Borno state.

The Forum under the Chairmanship of Alhaji Usman Makinta Bama in a statement made available to Journalists in Maiduguri, the Borno state capital today, noted with satisfaction the unanimous endorsement of Mohammed Imam as the governorship flag bearer of the PDP in Borno state by leaders and all stakeholders of our great party, which has been upheld by the President, Dr Goodluck Ebele Jonathan, the PDP national Leader and his Borno state counterpart Honorable Mohammed Wakil, Minister of State Power.
The statement reads: " We wish to state as a matter of fact that the emergence of Mohammed Imam as the Borno PDP Governorship flag bearer has elicited enthusiastic response from across political parties, as evidenced from the jubilations that greeted his announcement.
"Those who are conversant with developments in the state can attest to the fact that there has been massive support to Mohammed Imam's candidature even from the camp of the incumbent Borno StateGovernor,Alhaji Kashim Shettima, as many have indicated readiness to support and work for the success of Mohammed Imam.
"The reaction of the ruling All Progressives Congress, APC, which has been desperately trying to stir unnecessary disquiet in the PDP since the candidature of Mohammed Imam was made known is a tacit demonstration of weakness, as it lacks the capability to face Imam at the polls.
"Mohammed Imam and this group would like to assure the good people of Borno state that the desire for change in governance of our dear state is real andcannot be compromised on a platter of blackmail nay mischief.
"We want use this medium to correct some certain mischievous publications being syndicated in the press recently to the effect that there has been rancor in our greatparty over the choice of Mohammed Imam. We want to put it on clear record that there at no time was there protest by any section of the PDP under any kind of group."