Dr. Okezie Ikpeazu Denies Allegation Of Tax Evasion.....Says His Opponents Are Afraid Of Pedigree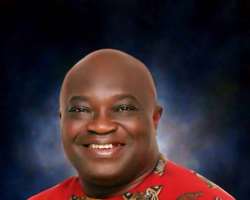 The Abia State Peoples Democratic Party (PDP) governorship candidate, Dr. Okezie Ikpeazu has debunked rumours making the rounds that he is having issues with tax payment, describing the report as false and the handiwork of his detractors.
The PDP governorship candidate who addressed journalists at his campaign office in Umuahia, said that having been in public office in the past 12 years both as the General Manager of Abia State Passengers Integrated Manifest and Safety Scheme (ASPIMSS) and the Deputy General Manager of Abia State Environmental Protection ASEPA, Aba, payment of tax for him is not a choice since it was deducted compulsorily from source through the Pay As You Earn system (PAYE) before his salary gets to him.
He explained that his detractors imported the tax papers of one Chief Okezie Ikpeazu, a businessman also from Obingwa who bears the same name with him and went to an Abuja High Court thinking that he was the one involved.
Dr. Ikpeazu who said that his lawyer challenged the issue in court and costs awarded against the plaintiff stated that he has no business going to any tax office to negotiate, adding that those peddling the rumour are making mockery of themselves as the tax matter is a non issue.
He said that those spearheading the rumour are doing so because they see him as a threat and pointed out that his vision for the state include looking for alternative ways of funding projects as well as enhancing the internally generated revenue base of the state.
According to him, he was lucky to be enjoying the support of the Governor of the state, Chief Theodore Orji and major stakeholders in the state and stated his commitment to consolidate on the achievements of the Governor.
Dr, Ikpeazu maintained that what should occupy the minds of people at this point is not tax but how how to move the state higher.
In his speech, a member of the legal team of the Okezuo Abia campaign organization, Barr. Teddy Eruba disclosed that Dr. Ikpeazu does not have any tax issues that will disqualify him from running for the governorship position, saying that it is infantile for any person to consider tax default as one of the conditions likely to disqualify Dr. Ikpeazu or any candidate from running for governorship position.
He maintained that the only thing that can disqualify him is a judicial action by a qualified court.