7 BOKO HARAM TERRORISTS KILLED IN A BOMB BLAST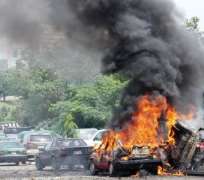 At least 7 Boko Haram terrorists were killed when an Improvised Explosive Device (IED) hidden in a Toyata Pick up van loaded with maize and beans exploded near Chikwarkir village of Biu local government area.
A security source from Biu who does not want his name in print said " a Toyota pickup van loaded with maize and beans with IED hidden under it belong to he Boko Haram insurgents exploded near Chikwarkir village of Biu killing all the occupants of the van"
He said "the insurgents intended to sneak into Biu Market to detonate it so as to kill many people, as you know it is harvesting period and people are taking their farms produce to the market to sell but thank God the bomb exploded with them before they got to the market".
He said they chose Monday because they know Mondays and Thursdays are the market days of Biu town, the headquarters of Biu local government.
A driver from Biu Mallam Garba Ibrahim said as they were coming to Biu Market on Monday they saw the debris of the dead Boko Haram members along the roadside near Chikwarkir village of Biu.
He said "we thought some people had had an accident but the villagers we met there said it was the members of Boko Haram sect that were trying to carry explosive to Biu Market but it exploded before they even get to Biu".
In a related development scores of people were said to have been killed, houses and shops burnt when Boko Haram insurgents stormed Kautikari village of Chibok local government area of Borno state.
A resident of the Area who fled to Biu also told our correspondent on phone that the insurgent who stormed the village on Monday night killed scores of people, while houses and sheep were burnt.
He said "we had to flee to the bushes in the night before returning to the village in the morning to pick our belongings . I saw many corpses littered across the streets, while more than half houses and shops in the village were burnt"
Efforts to get the Borno state command Police Public Relation Officer DSP Gideon Jibrin for confirmation did not yield any result, as his phone was switched off, as at the time of filling in this report.