September salary: Fayose begs for patience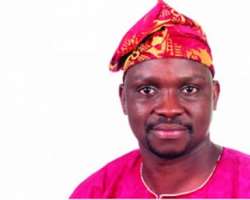 The Ekiti State Governor, Ayo Fayose, on Friday has asked civil servants in the state for more time to pay their September salary.
The governor who made the appeal while featuring on his monthly media chat, 'Meet Your Governor', said the precarious financial situation of the state would not allow him to pay the salary arrears he inherited from his predecessor, Dr. Kayode Fayemi.
Fayose also revealed that governors of Jigawa, Adamawa and Katsina States sent rams and cows to him as part of their contributions to his 'stomach infrastructure' agenda for Christmas celebrations.
He explained that he took the step in his desire to make Ekiti people happy and ensure that they do not go hungry during the festive season.
The governor explained that the deductions from the allocation of the state from the Bond sourced by the last administration and commercial loans obtained from banks had adversely affected the state finances.
He said, 'I became governor on October 16 and that is two months and ten days now and I want to state categorically that I have managed resources of the state very well.
'Now coming here to tell the people that I will pay September salaries, no, no, I will not say that. The salaries I am paying now, I had interface with banks to give me leeway for six months to be able to arrange myself.
'If anybody is expecting me to pay September salary now, that person is deceiving himself. Where will I get the money from? If somebody was in office four four years and he owed you two months salary arrears and I am in office for two months and I don't owe you from the time I took office, our people should be patient.'
'This government has been in office for just two months now and people are complaining, what are they complaining about? we should not be deceiving ourselves. Oil benchmark used to be 78 dollars but it has now dropped to 62 dollars.
Fayose said things would get better if the workers were patient and showed understanding.
'Fayose love you all but I will not sell house or children to pay salaries. Since my coming to power, I have been paying deductions and I have ensured water supply to Ikoro, Ijero, Moba and we are closer to Aramoko and Iyin.
'Some people will say abandon other sectors and pay our money, are we going to leave health, water, education and others? Agency report