ADAMAWA STATE GOVERNOR PRESENT 2015 BUDGET PROPOSAL OF N100.89b.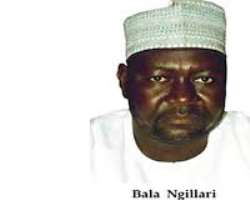 With the present economic met down in the country following crash of the price of crude oil in the international market and faced with the present reality the Adamawa state government has presented 2015 budget proposal of N100,890,000,00b to the state house of Assembly.
Governor Bala James Nggilari, presenting N100,890, 000,900 Billion budget proposal for 2015 fiscal year, christened "Budget of Consolidation and Hope", said it is aimed at financing capital and recurrent expenditures.
Presenting the budget on the floor of the House of the Assembly, which vacated rule 14 of the House to enable the state house of Assembly to seat on a Saturday to receive the budget presentation by the governor.
While presenting the 2015 budget proposals, Nggilari said, N45,821,260,800b would be derived from the statutory federal allocation,N15,981,709,400b from the Value Added Tax.
He added that the budget is bench-marked on US65 dollars per barrel, 7.9 percent inflation rate and 10 percent GDP projection rate while the sum of N58b has been earmarked as recurrent expenditure and N42b has been set aside for capital project.
The Government projected to source the sum of N45 billion from statutory allocation, N15b as VAT and N2b as Ecological funds.
Ngillari noted that stringent fiscal control mechanisms are employed to ensure that all loopholes and leakages are blocked in order to ensure high performance of the budget.
Adding that the civil servants has a greater role to play in improving the IGR of the state so as to meet up with the reality of the dwindling allocation from the federation account.
The governor charged civil servants in the state to be proactive with their duties stressing that government will not condole any act of in subornation in it effort to realize this goal.
Receiving the 2015 budget proposal, the speaker Adamawa State House of Assembly Ahmadu Umaru Fintiri noted that the major sources of income, Following the dwindling price of oil at the International market should be the internally generated revenue IGR which he said must be taken very seriously.
Budget presentation by Barrister Bala James Nggilari is in line with section 121 sub section 2 of Nigeria constitution as amended.