Urhobo Must Be Careful: As Ijaw Leaders. Vows To…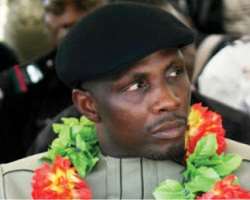 The Urhobo Youth Initiative Movement has described comments circulating social media about the Urhobo people and Ijaw kinsmen as absurd and self serving.
According to the movement, there is an SMS being circulated by some people who claim to be speaking for the Urhobos and making inciting comments about Chief Tompolo and his Kinsmen from Ijaw Kingdom.
The inciting comments peddled on behalf of Delta State are messages flooding the media and blogs since the PDP primaries ended, members of Urhobo Youth Initiative Movement (UYIM) have sent out a statement on the matter.
In a release signed by Mr. Obaro Akpomiemie for Urhobo Youth Initiative Movement, he described the said comments as absurd and a grand design by some people paid to plunge Urhobo nation into hate with her neighbors.
They observed that the malicious and unholy comments circulated around are of no importance to Urhobo people but rather self serving antecedents of disgruntled politicians, who are bent on causing disunity about various tribes in Delta.
Read the SMS below:
"URHOBO UNITED WAKE UP AND PREPARE FOR THE BATTLES AHEAD! Mr. President mandated Tompolo. Sen. Manager and his Kinsmen to mobilize against our guber candidate David Edewvie. Its in record dat d Urhobo's gv Mr.President more votes than d entire Bayelsa state in d 2011 election. we must unite to ensure dat Mr.President does not win a single ward in our areas. The same Tompolo and his cohorts are acting like pirates in power hijacking and looting by changing names of those who already won their house of assembly primaries @ d PDP secretariat Abj. What a NONSENSE! Mr.President call Tompolo to order, to avoid another round of crisis in delta State. May wise counsel prevail!" – extracts from an SMS broadcast on the 15th Dec 2014
The movement unanimously condemned the authors of this text message and their intentions.
Members of Urhobo Youth Initiative Movement also reiterated their commitment to the peace and unity of Delta State ,they also vowed to resist any attempt by individuals to be used as puns in their grand political design to destabilize the state, by this they enjoined every indigene of Urhobo race to ignore the calls and resist any such plans by this group of persons.
UYIM also reiterated their commitment to ensure that the election will be peaceful and free of any conflict with either Ijaw or Delta North this is because the said groups have supported the Urhobos tremendously while the produced the Governor of the state on two separate occasions.
They urged the Urhobos as a sign of good gesture to support the course of Delta north neighbors now that it has been bestowed on them to produce the governor.
UYIM also condemned the unholy media attack on the person of High Chief Government Ekpemupolo AKA Tompolo and some of his fellow Ijaw kinsman Sen. James Manager by a particular so called Urhobo group and described it as unacceptable and should be discouraged by any reasonable Urhobo indigene.
In an election ,they said,everybody has the right to vote for whoever they want,by going all out to maintain peace and Chief Tompolo and his kinsmen should be commended for doing the right thing,they insisted, which is not to impose an Ijaw man with their strength and connection as the group actually attested to,they encouraged to play fair by respecting the zoning arrangement of Delta state which actually favors the Delta North,they described Tompolo and his Kinsmen as true Deltans who meant well for the peace and unity of Delta state.
UYIM also called on Deltans to reject any call of instigating the Urhobos against their Ijaw neighbours ,they commended them for their show of patriotism by not trying to use their closeness to Mr. President to destabilize the state like many would have done by trying to impose an Ijaw man as Governor. They commended all well meaning Deltans mostly Urhobos who have benefited immensely from the support structure of other ethnic groups.
In conclusion,they warned every member of the group to refrain from declaring that the Urhobos will not vote for Mr. President because of political grudges,The Urhobos ,they stated are solidly behind President GoodLuck Jonathan and are fully in support of his Transformation Agenda and the progress and development it has ushered into the country, they vowed to vote massively for him come Feb 14th 2015 and also make sure the group mobilizes strongly to see that all favors enjoyed by Urhobos from Delta North in past elections should also see that Sen. Ifeanyi Okowa is elected the next governor of Delta state come Feb 28, 2015.
Delta people have always been a people of Peace and appreciate favors and no one shall because of his own personal loss shall cause Urhobo nation into some tribal and hate related conflict situation with other Delta brothers and sisters.