Coca-Cola, Partners Friends Africa To Celebrate World Aids Day In Nigeria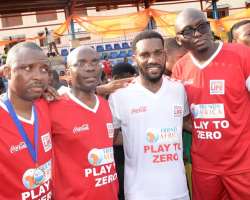 In commemoration of World AIDS Day 2014, Coca-Cola Nigeria Limited in partnership with Friends Africa (Friends of the Global Fund Africa), a pan-African NGO, organised a week long HIV/AIDS outreach in Lagos, enabling about 4,000 persons to take the HIV test.
The programme, implemented in collaboration with Access Bank, First City Monument Bank, Lagos State Agency for the Control of AIDS (LASACA), Society for Family Health (SFH), Network of People Living with HIV/AIDS, among other partners, was aimed at creating more awareness about HIV/AIDS; promoting acceptance and inclusion rather than stigmatisation and discrimination of people living with the virus; providing opportunity for Lagosians to access free HIV counselling and testing (HCT).
Nearly 4,000 persons, mostly women and youth, took the test to ascertain their HIV status at the mobile HCT centres activated in four locations: Campos Square, Sangrose Market and Oluwole Market on Lagos Island and at the University of Lagos campus in Akoka, from December 1 to 6, 2014. About 70% of those tested did so for the first time. A few persons who tested positive for the virus were counselled and referred to the Lagos General Hospital for enrolment on follow up counselling and treatment programme.
Another highpoint was the celebrity-studded novelty match played at the Campos Square sports centre on Saturday December 6. The match tagged 'Superstars Play for Life' was sponsored by Coca-Cola and featured 16 former national and international football stars including Austin "Jay Jay" Okocha, Emmanuel Babayaro, Emmanuel Okocha, Victor Agali, Dan Amokachi, Teslim Fatusi and Celestine Babayaro trading tackles with a team of 12 Nollywood, music and entertainment celebrities, among them Sound Sultan, Hafiz "Saka" Oyetoro, John Njamah, Emmanuel Mordi and DJ Steel. The celebrity team was complemented by 5 officials of Coca-Cola Nigeria and suffered a 2-6 defeat.
Speaking at a dinner event also sponsored by Coca-Cola at The Wheatbaker Hotel to round up the week-long programme, Public Affairs and Communications Director for Coca-Cola Nigeria, Clem Ugorji said "The World AIDS Day is a reminder to every one of the grave threat that HIV/AIDS continues to pose to families and communities, particularly in Africa. It is also a clarion call for each one of us to stand up as individuals or in partnership with others and take a positive action against the scourge in whatever capacity that we can to help make this year's theme 'Getting to Zero' a reality".
Ugorji said that Coca-Cola has been a frontline player in the global fight against HIV/AIDS through funding and active involvement in several global initiatives such as the Global Fund and the RED Foundation as well as many local initiatives in communities around the world. He expressed appreciation to the partners, the volunteers and the football stars and celebrities for the generous giving of their time and other resources towards the success of this third edition of the programme which has held annually since 2012.
Also speaking at the event, Femi Martins, the partnership Manager of Friends Africa who represented the CEO Dr Akudo Ikemba, commended partners like Coca-Cola, FCMB, First Bank, corporate sponsors and celebrities who have remained committed in the fight to end the scourge and HIV/AIDS stigmatisation. He said in line with this year's theme, the programme shares a message of hope and unity to empower today's youth to understand that they can be the generation to end the AIDS pandemic.