And So What If The APC Is A Muslim Party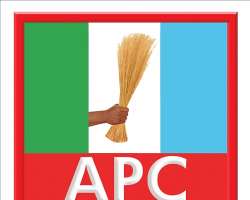 The emergency of Gen. Muhammad Buhari on 11 of this month as the APC Presidential candidate brought back the much heated campaign and effort by the various parties to paint the APC as a Muslim party in order to deter Christian voters from voting for the party in 2015. That is what is known as a " religious politics". For a very long time, different set of evil people have labeled the Gen. Buhari as a religious bigot who is in no way tolerant of differences in religion and ideological background.
They are doing that not because it is true, but because they find no any other way to say something bad about the Gen. Buhari despite himself been a one time Head of State. Buhari still have personal and intimate friends that are Pagans, Christians, etc, and he is still going well with them. Then how on earth can you call him a bigot?
There is no doubt that religion is a very important factor that determines the socio political arrangement of nations, and communities. Religion is suppose to be use for good, not other wise. There is no any problem for anybody to belong to, to associate with any religion in the world. The freedom of religion is enshrined in Nigeria's constitution. The right to freedom of association is another right to belong to set of people you wish to and religion if you wish to.
From around the world, there are countries with different state religions; the Vatican City is Christian country, Israel is Jewish nation, Saudi, Iran, & Pakistan are Islamic countries, Tibet, UK, etc have different religions and are still developing. Despite having state religions, That is not stopping them from developing. In fact some are ten to twenty times better than Nigeria, and there are still minorities living freely in those countries.
Likewise in many other countries, there are many faith based political and sectarian parties. In Germany, there are many Christian Parties like the Christian Democratic party, Albania Christian Democratic Movement, Australia Christian party, Croatia Christian democrats, Columbia Christian National party, Cuba Christian Liberation Movement, Denmark Christian Democrats, France Christian Democratic party, etc. In fact, even in Muslims majority states, there are Christian parties. Even in the worlds largest Muslims country, Indonesia, there is a Christian party named The Christian democratic party of Indonesia. Likewise In the so called developed countries, despite there. So called campaigns for rights, tolerance, they still have faith based parties like; in France, Italy, UK, Germany etc. Then why not a muslim party in other countries and Nigeria since it is a Muslim Majority?
In Nigeria every simple and important issue is a matter of religious view and inclination. Even the national security is not left out. Even when Nigerians are suffering from mis rule, corruption and looting of public funds, instead of Nigerians to unite against their common problem, they still choose to remain divided.
For who ever is leading, funding and aiding the campaign against muslims or any party they think is Islamic in Nigeria, let Nigerians know they are destroying Nigeria and Christian and other religions should not support them. This is because, that will undermine the good effort of the government and the good people of Nigeria to live a better life and help one another.
Politics is a game of number, not opinion. If the Northwest, Northeast, North central, and Southwest will unite under a single party, then so be it. What opposition and opponents should be doing is, they should try to come up with better manifesto and agenda for Nigerians, in that way, they will win the positions of government and the people of Nigeria.
Nigerians - especially religious and political leaders should fear God Almighty, they should continue to do what is right and refrain from evil. Nigeria is for all Nigerians and united we stand, divided we fall. #OneLove #UnitedNigeria
Comrade Abdulbaqi Jari Katsina,
The Chairman, Katsina State Muslim Right Concern (MURIC),
+2348035424321
@jariabdubaqi
Disclaimer:

"The views/contents expressed in this article are the sole responsibility of the author(s) and do not necessarily reflect those of The Nigerian Voice. The Nigerian Voice will not be responsible or liable for any inaccurate or incorrect statements contained in this article."