CBN: Emefiele flags-off issuance of new N100 banknote Friday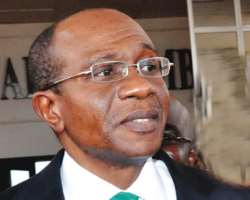 The Governor of Central Bank of Nigeria (CBN), Mr. Godwin Emefiele, will on Friday December 19, 2014 officially issue into circulation the commemorative N100 banknote unveiled recently by the President, Dr. Goodluck Ebele Jonathan.
The ceremony billed for the Abuja Branch of the CBN will be immediately followed by a simultaneous issuance of the currency across the branches of the Bank.
The commemorative note, which is embedded with features to assist the visually impaired recognize genuine notes, also has other security features easily identifiable through look, feel and tilt of the currency note.
It will be recalled that the CBN Governor, at the unveiling of the new banknote, explained that the new note was designed with enhanced security to offer robust resistance against counterfeiting.
Authentication features of the note include; window micro-optics, showing the national flag and numeral 100 indicating the value of the denomination and the attainment of the centenary period.
The new design retains the portrait of Chief Obafemi Awolowo both in the ink,  as a portrait and also in a paper as a shadow image. In addition, there is a spark feature of a rolling manila bar, which was the instrument of transaction during the slave trade era.
At the back side of the currency is the introduced Quick Response Code, QRC, a digital communication feature that highlights and sources all the information about the centenary.
With the QRC application, the barcode on the banknote can be scanned by users to read a brief history of Nigeria.
According to the bank, the commemorative note will circulate alongside the existing N100 note.