December 12, 2014

| Ghana
Embassy of France to Ghana hands over material to the Ghana Armed Forces for the Teaching of French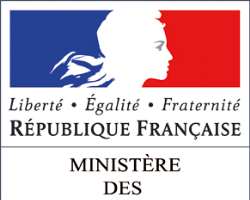 ACCRA, Ghana, December 12, 2014/African Press Organization (APO)/ -- On behalf of the French Ambassador to Ghana, H.E Frederic Clavier, Lieutenant-Colonel Arnaud CREZE, French Liaison Officer to Ghana, handed over some materials to Colonel DK Mensah, Director of Education at Burma Camp. The material amounts 14.000 dollars and will equip the six French Language Teaching centers. The ceremony took place at Burma Camp on Thursday 11th December.
The ceremony was also the opportunity for Lieutenant Colonel Arnaud CREZE and Majdah RACHIQ, Coordinator for French Teaching in Ghana, to reaffirm Ghana and France mutual will to develop French Language teaching in Ghana Armed Forces (GAF), and also to express their "sincere appreciation to the Military High command, the Director of Education and Instructors of the various French Language centers for their hard work and dedication to duties over the years". On behalf of Chief of Defense Staff; Vice Admiral M Quashie, Colonel DK Mensah thanked the French government for the support.
The project Teaching French in the militaryis the result of the military cooperation between France and Ghana. It aims at encouraging and promoting the use of French language in the Ghana Armed Forces to facilitate their engagement alongside with the Armed Forces of the francophone countries, particularly as part of the peace keeping operations. Lieutenant Colonel Creze urged the personnel of GAF to "take the study of French language very seriously to enhance their capacity to work with their francophone counterparts".
The project was initiatedin 2004 and allowed the setting-up of sixspecialized centers(in Burma Camp, MATS SOE and GMA cadets in Accra (Military Academy and Training School), Tamale, Kumasi, Sekondi).Every year, more than 150 students benefit from this training. France gives support to the teaching programme with pedagogical, material and training follow-up for instructors and military students. Teachers' training is also completed in France at the CIFR (Regional Training Center for Joint forces in Rochefort). A specific course book have been designed by France to meet with the specific needs in terms of French Learning for the Military forces engaged in peace keeping operations. At the end of sessions, all students go through the certification exam DELF/DALF to provide them with a subsequent international recognition of their knowledge level in French.
Details of materials handed over:
- 100 coursebooks En avant 1
- 100 coursebooks En avant 2
- 46 books for Pedagogical French Language Teaching
- 3 Centers equipped with Internet Access
- 4 Centers equipped with French TV Channels
- 8 fully furnished computers for students
- 5 whiteboards
- 11 UPS
- 2 DVD players
- 1 printer