Robinson Uwak Begs Akpabio For Forgivenes: Seeks Second term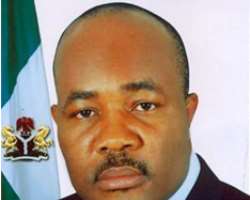 I have been reliably informed that Hon Robinson Uwak of Oron Federal Constituency, yesterday went to Governor Godswill Akpabio on his knees, begging and asking for forgiveness.
This is very disappointing for someone who temporarily forgot the lessons of respect to elders and was issuing all sorts of insulting and abusive templates against the governor of the State.
Robinson Uwak as I am told was at the Government House, on his knees, begging Akpabio's wife, Udom Emmanuel's wife in the midst of delegates from Ikot Ekpene senatorial district, to help him plead with Akpabio for forgiveness.
Robinson Uwak is the last person I would have expected to swallow his vomit, after openly and repeatedly calling Akpabio names and labelling him in the most harsh, rash and abominable titles.
This is a serious lesson for everyone that what goes around, does comes around.
But for Robinson Uwak who has done absolutely nothing for Oron Federal Constituency in the last four years, except to marry a wife for himself; yet he insult Akpabio calling him the uncommon transformer of Annangland yet he goes secretly to ask for clemency. He is a hypocrite of the highest order.
Very Shameful that you will abuse and shout in the afternoon and receive cheers from touts, and in the night you turn to nicodemous and sneak to beg.
The Question is, will Akpabio forget the heaps of insult and forgive the prodigal son ?
Emmanuel Edet
Nsit Street, Uyo
Akwa Ibom State
(no man has the right to rule over another, without that person's consent)
Disclaimer:

"The views/contents expressed in this article are the sole responsibility of the author(s) and do not necessarily reflect those of The Nigerian Voice. The Nigerian Voice will not be responsible or liable for any inaccurate or incorrect statements contained in this article."