Kelly Hansome Praises 'Prophetic' Grandma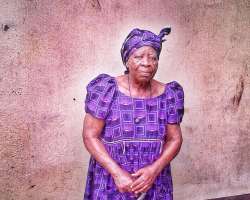 Former Kennis Music recording artiste, Kelly Hansome, says he has the best Grandma in the world as her prediction to things always come to reality.
The singer, who adored his grandma, Mrs. Rose Nwachalu Ejimofor, in every possible way, described her as being an angel in human form.
Mrs. Rose happens to be the wife of the first Nigerian Ambassador to West Germany, Mr. Michael Ejimofor.
"I have the best Grandma in the world because her words are wisdom, her advice is priceless and her predictions are accurate. I think she is an Angel in human form, so many great grand children and still counting. Mrs Rose Nwachalu Ejimofor, wife of the Great Bar. Michael 'jIM jIM' Ejimofor of Umorii Uratta in Owerri, in Imo State (The First Ambassador of Nigeria to West Germany) May you live longer and may your name and legacy live forever. #Mmakuku #Ejimofor #Orji #Family #Work Hard Stay Humble," he wished.