OWERRI ZONE: FINALLY, AS CHRIS ASOLUKA GOES TO THE POLL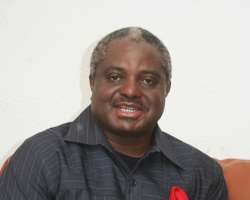 With few days to compulsive and titanic battle of who carries the day for political party tickets, we must not forget the counsel of the philosopher king who said, "evil flourish when good men look the other way", it is also an opportunity to quote that"even an army cannot defeat an idea whose time has come", it is on this note that one must endeavor to seek the truth and speak it at all times, without minding whose ox is gored.
Let me digress a little to say that, at first it was an argument, but now, it is an emerging scenario thatit is the turn of Owerri zone to produce the next governor of Imo state, at least from PDP family, eventhough gubernatorial aspirants from other zones has emerged for the same position in Imo State, but this truism in favour of Owerri Zone has necessitated the grand swell of candidates from Owerri zone, a fact that hasbeen accentuated by party leaders from other zones who argued and canvassed in favor of Owerri to produce the next governor come 2015.
It is this ground swell of who is who into the gubernatorial race, both the highly and the less qualified, that necessitated this write up, as nobody appears worried for the negligence of the coveted senatorial seat for the zone, on who occupies it, considering the caliber of persons that has represented the zone in the senate in the past, and 2015 cannot be less a period lest we overlook the senate before an 'eaglet senator' emerges for the zone.
The Senate is not an assemblage of mere human folks, but the meeting pointof egg-heads who determine the fate of citizens of Nigeria through enactment of legislations, that in all ramificationsare geared towards the elevation of the Nigerian society.
From history, Owerri has never had a fair-weather representative in the senate, right from the second republic when our zone was represented by Igwe Tony Anyanwu senior (1979) and Chief IsdoreObasi (1983) respectively, both from Ahiazu, and in the botched third republic, Dr. Bright Nwanne from Ezinihitte was there for us.
With the final retirement of soldiers permanently to the barracks in 1998/1999, former Governor of Imo state, His Excellency Evan Enwerem from Ikeduru won the election, leading to his ascension as the third citizen of Nigeria with his election by his colleagues as the numerous uno, after Chief Enwerem, Dr. AmaIwuagwu from Mbaitolu, erudite scholar and intellectual of high repute was elected in 2003, unfortunately senator Iwuagwu died midway, paving the way for the emergence of Chief EzeAjoku from Owerri North LGA, who spent about a year at the red chamber.
For those who do not know, Owerri zone has nine Local Government Areas, in the followingAboh-Mbaise, Ahiazu-Mbaise, EzinihitteMbaise, Ikeduru, Mbaitolu, Owerri Municipal, Owerri North, Owerri West and NgorOkpala, with a sharing formula between the Owerri, with 6 LGAs and Mbaise who has only three LGAs but with a thick population, it is also based on this mutual understanding, an advocacy of matured minds that Imo governor in 2015 which necessity and circumstances has zoned toOwerri, tilts towards Mbaise since mainOwerri through Chief Evan Enwerem governed the state in the third republic.
In this forth republic, theMbaitolu/Ikeduru (Mba-Ike) axis ofOwerri earned two terms to the senate as a result of that understanding, unknown to many, the emergence of EzeAjoku to the senate in 2005 was a product of that mutuality between Owerri and Mbaise to the detriment of Chief Mike Ahamba, at the death of Senator AmaIwuagwu,even when Chief Mike Ahamba from an opposition party, had the backing of the AchikeUdenwaled government in Owerri.
At the dawn of the sixth senate, when it became the turn of NdiMbaise, it was easier for Aunty Chris Anyanwu born of Ahiazu and Married in Aboh-Mbaise, to emerge victorious in 2007, and a hard earned return to the senate in 2011, defeating Dr.KemafoChikwe, who was a serving Ambassador, upon the cover she received from the powers that be in Government House Owerri, an inglorious scene that forced Aunty Chris to jump ship into APGA, a platform that gave her victory, the same party thatgave victory to who is what in 2011 election, from the state House of Assembly, House of Representative, the Senate and the gubernatorial, after which APGA was abandoned, but as we all know, today everybody is back to the party for another round of use and dump exercise.
With Mbaise flank of Owerri zone, having gone to the senate twice, the senatorial ticket automatically goes to Owerri, and of a truth the core Owerri/NgorOkpala should have it.
Having established the points above, people of Owerri zone must not fail in providing answer to this all important question confronting the zone, that Owerri zone is fighting for Imo gubernatorial ticket, is it enough a reason we let go who represents Owerri at the senate in 2015? We must remember that our zone has not gone to the senate with fair-weather, green-horn or under-dog as representative, considering where we are coming from and on that note, 2015 should not be different.
From the list of great and bravura minds with grass root appeal that has represented the zone in the past, Owerri zone cannot afford to go to the senate in 2015 with a Lilliputian or an arid character, and that is the essence of this all important piece.
After a long time of investigation, retrospection and introspection I have come to realize in the midst, that having an intellectual of sagacious hue like Hon. Chris ChigoziriAsolukaPh.D, will be a plus for a senatorial zone that produced the first senate president in this forth republic dispensation.
In his message to the people of Owerri zone, Asoluka a credible and popular candidate with character, competence, chemistry for team-building and capacity, gave account of his stewardship "I have over time shown great discipline, character and commitment to the party, I have as well subordinated self- interest to group interest and have kept faith with party decisions even at personal discomfort"
Stating further, he said, "I have sufficiently prepared myself and do possess proven capacity, contact reach and record of resourcefulness especially in providing solutions to problems. I have gone through the mills of service to God, community and Igbo cause, having served as founding president of MezieOwerri cultural group, Pioneer Secretary and later president of Aka Ikenga, and National Vice President of OhanaezeNdigbo"
It is not in doubt that Asoluka who is blessed with stupendenduous intellectual accomplishment, having being in the National Assembly in 1992 as a ranking member will be entitled to all opportunities and privileges, accorded such members.
For those that has forgotten, between 1994-96 when he served as commissioner for Finance in Imo state, he was unanimously elected as chairman of Committee of Finance Commissioners in Nigeria, a body that had former Kaduna state governor and current senate committee chairman on finance Mohammed Makarfi as member.
He is a thorough bread public speaker at local and international forum that has earned him the general acceptability across board in the Nigerian public space, a vision nineteen years ago, 32 original traditional rulers in the entire three LGAs that make up Owerri saw and conferred on him Okwuruoha nde Owerre (speaker of Owerre people)."Are you seeing what am saw"?
Yes Chris Asoluka is a politician since that is the sobriquet for all conscious of political happenings, we must not forget that he is a professional, the Managing Consultant/CEO of FM&T consulting, a professional consulting firm, with focus on legislative capacity strengthening, Organizational Process Re-engineering, Maritime Policies and Advocacy, Technology and Applications, Public Policy Formulation/Implementation and I so submit that such a chivalrous personality cannot be a parasite on Owerri zone.
Ndi Owerri zone must realize that all that glitters are not gold, as we must recall according to Mark Twain that "A lie can travel half way around the world before the truth can get its boots on"
Sentiment and sycophancy apart, one need not to go far to discern that Chris Asoluka is a brand in many respect and as such, the brand imbued with huge benefits encapsulated in Asoluka's candidacy would mean well for our senatorial zone, as we have also realized that many states and senatorial districts in Nigeria had wished Hon. Asoluka is their son, and it will be wrong for NdiOwerri zone to "hapuuzopieweohia" and I make bold to say that Asoluka is a brand with many benefits that can easily be identified from similar candidate in Owerri senatorial market.
His intellectual sagacity, uniqueness, and consistency can be compared to senatorial eggheads in developed polities where we claim to be copying, with these; we can now see where these Asoluka's champions and disciples are drawing their strength from.
For a brands to be believed, be it human, product, and organization or service, it must have fulfill its promise, which translates into valuable equities for its owners and I so concur that brand Asoluka is and will remain of great benefit and valuable to both the National Assembly and Owerri zone.
As a reminder, since it is normal for aspirants to employ and deploy all tactics to clinch party ticket, the onus falls on the electorates/party delegates to choose aright not minding who has more money, as focus should center on one's credentials capability and antecedents, as we must not forget that Owerri zone is synonymous with strong voice, we cannot over flog the fact that Owerri zone has gone beyond the stage of having a bemuse at the national assembly.
Since everything goes in politics, even when it is morally wrong, as the end according to 'Machiavelli' the end justifies the means, we must also realize that, whatever decision taken at a time like this, will live with us for the next four years, it is necessary when we realize this, we become mindful of our actions, as we approach the ballot box.
OKECHUKWU IKONNE
From Aboh Mbaise
[email protected]

Disclaimer:

"The views/contents expressed in this article are the sole responsibility of the author(s) and do not necessarily reflect those of The Nigerian Voice. The Nigerian Voice will not be responsible or liable for any inaccurate or incorrect statements contained in this article."