2015: Yerima joins presidential race on YDP platform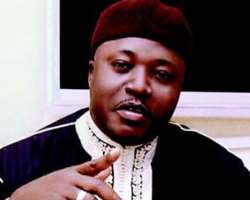 The National Presi­dent of Arewa Youth Consul­tative Forum, (AYCF), Alhaji Shettima Yerima, yesterday joined the presidential race, say­ing it was time to stop Peoples Democratic Party (PDP) from further deci­mation of the country.
He said it was time to call the ruling class in the country to order, adding that he would contest under the platform of the Young Democratic Party (YDP).
Addressing newsmen in Abuja after obtaining his nomination form, the ACF youth leader argued that both PDP and APC had failed the youth and in­deed, Nigeria at large.
The former PRONACO youth leader stressed that youths world over are be­ing entrusted with political power, insisting that Nige­ria should not be different.
Giving reason for seek­ing an end to PDP reign, Yerima argued that 16 years of PDP governance has brought nothing but ab­ject poverty to the people, stressing that President Goodluck Jonathan has nothing to offer even if he is given another opportu­nity.
He said: 'The 16 years of PDP has given Nigerians nothing than abject pover­ty, terrorism, lack of devel­opment and so on.
'As people, from our ex­periences and background, we have a lot to offer this country. But sometimes, the way the political ac­tors behave, one begins to think whether they have an answer to the Nigerian problem.'