Drama as President Jonathan walks oil Baron, Jide Omokore out of Aso Rock meeting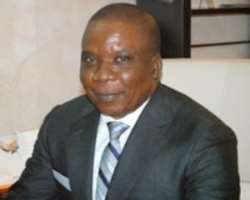 There appears no end yet in sight for the troubles afflicting the mega fortune business of Oil Baron, Jide Omokore.
The Resource Energy boss just suffered a humiliation in attempt to save his business.
He was walked out of a meeting with President Goodluck Jonathan.
After lots of behind the scenes strings pulling, the man who made a lot of wealth as one of the powers behind Seven Energy secured a meeting with President Goodluck Jonathan to revive business ties.
The Federal Government had earlier blocked all big money deals Omokore has interest in over the disappearing act performed by his partner, Kola Aluko along with billions of naira.
The development has roots in the role of the duo in the missing $20b the government attempted to sweep under the carpet.
And along with it blockage of unhindered access the Kogi born money man formerly enjoyed.
The recently held meeting was meant to convince the President to reverse the decisions, that the move is greatly hurting other stakeholders – while the culprit stays in comfort on the run. ( Omokore and Aluko serve as business front for powerful shadowy figures in government)
Insiders however revealed rather than achieve this aim, it further aggravated the situation.
Omokore couldn't provide logical responses to issues raised pertaining to how Aluko was able to pull off massive swindle without his knowledge.
Insiders revealed his responses greatly agitated the President who walked him out of the meeting room.
Insiders revealed one of the conditions Omokore is trying to work around is re opening his revenue stream without turning snitch on his business partner and bossom friend on the run for billions of naira fraud. Societynowng