Court orders release of detained APC data officers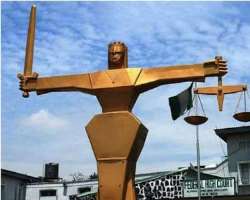 A Federal High Court sitting in Lagos has ordered the release of the detained five officials of the All Progressives Congress.
The five-Chinedu Atuche, Fayemi Olaposi, Augustine Onuchukwu, Ebun Ilori and Esther Enemy -were arrested by the Department of State Services during a raid of the APC data office in the Ikeja area of Lagos on November 22.
The DSS said the raid was informed by intelligence information that some unwholesome activities were being perpetrated within the APC building.
On Monday, at the resumed hearing in the fundamental rights enforcement action filed on behalf of the five officers by Prof. Yemi Osinbajo (SAN), Justice Mohammed Yunusa declared the continued detention of the officers by the DSS as unlawful.
The judge, in a bench ruling, said it was against the provision of Section 35 of the Constitution to continue to hold the applicants in detention while the DSS was conducting its investigations.
Justice Yunusa held that a citizen could not be detained for more than 48 hours before being charged to court, adding that if there was any need to extend that period, the law enforcement agency would be required to file an application for a review of the period before a court of law.
The judge therefore ordered the immediate release of the applicants. He also issued an order restraining the DSS from further arresting the APC officlas pending the determination of the substantive suit.
Justice Yunusa held that 'the arrest and detention of the applicants for the purpose of investigations is a clear violation of Section 35 of the Constitution.
'The remand order, whether valid or invalid, has exceeded the time limit permitted as reasonable by the Section 35 of the Constitution.
'The same arrest and detention of the applicants are illegal and they are hereby released,'
He however ordered that the applicants could not travel out of the country until the determination of the substantive suit.
Hearing of the substantive suit has been adjourned till January 19, 2015.
The DSS, through its counsel, C.I. Osagie, had prayed the court to discountenance the applicants' fundamental rights application seeking their release.
Osagie had said that contrary to their argument that they were being unlawfully detained the DSS had already secured a remand order on them from 'a competent law court.'
The counsel argued that releasing the applicants would jeopardise investigations being carried out by the DSS, in view of the nature of allegations against them and bearing in mind that some of them were at large.