28 Inch Trans Niger Pipeline: SPDC's Conspiracy Against Nigeria Exposed…As OFSDF-ND Demand Compensation For Its Members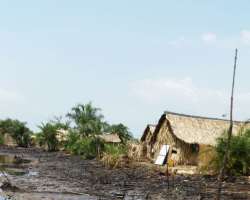 Multinational oil giant Shell in an alleged attempt to cover up and evade compensation to fishermen and residents of Okololaunch fishing community in Bonny following the catastrophic spill that started in Okololaunch on Saturday 22nd November 2014,may have opened one of its darkest secret of deceit, lies and conspiracy against the Nigerian nation.
SPDC had officially declared that its 28-inch TNP (Trans-Niger Pipeline) was out of use and non operational. However on the contrary, it was discovered that the pipeline was fully operational and was still passing substantial amount of crude through it after a swamp buggy caterpillar belonging to one of its contractors handling its project rammed into the pipeline bursting and causing massive spill around Okololaunch and nearby communities like Otobie, Kalabiama, Oloma, Peterside and other territorial waters.
Shell had demanded Freedom to Operate (FTO) permission from the Okolaunch fishing community to repair its 24-inch Trans Niger Pipeline (TNP). The sub contractor had in the process mistakenly damaged the 28-inch Trans Niger Pipeline (TNP) which consequently sparked up a massive spill from Okololaunch community.
According to the Publicity Secretary of Organization of Fishermen, Seafood Dealers and Farmers in the Niger Delta, (OFSDF-ND), Barr Victor Fred-eric Pepple, Shell had officially declared that the 28-inch TNP (Trans-Niger Pipeline) was out of service and is presumed to be out of use. They claim it was shut down due to problems, meaning crude was cut out from passing through it. When the spill occurred they alleged that it was from the 24-inch TNP (Trans-Niger Pipeline) to divert attention and cover up the TNP 28-inch pipeline conspiracy. But members of the OFSDF-ND said they cannot be fooled.
"The development is a shocke, we are not surprised because SPDC has consistently remained dodgy and evasive in their activities. It was obvious that with the volume of crude witnessed spewing out of the 28 -
inch pipeline after the bust up incident by the swamp buggy that SPDC has fooling Nigerians and had a lot of explanations to make.
The OFSDN-ND spokesman insists the spill did not emanate from the 24 inch pipeline, he challenged Shell to come and counter that. "We were on ground to witness the spill; it is a clear case of highhanded conspiracy. The recent development makes it crystal clear that SPDC is either involve in some kind of underhand activities involving Nigeria's crude, or someone inside SPDC is conspiring to defraud the country by claiming a particular Pipeline is out of service when it is actually active" he said.
"We are using this medium to call on the Presidency, state apparatus and stakeholders of the kingdom to carry out a thorough inquest on why a pipeline officially declared out of use by SPDC will have crude running
through it", he stressed.
Meanwhile Pepple had disclosed that SPDC had earlier declared that the spill was sabotage but dramatically sent relief materials to the area to the surprise of all. "A recent release by a shell spokeswomen buttressed
our position that the 24-inch TNP pipeline has been shut since October 18, and that the spill was not from there. Shell has dramatically decided to send relief material and we know that this new development may not be unconnected with plans to further reduce publicity generated by the recent discovery that its 28-inch TNP pipeline purported to be out of operation was still very much functional."
Shell had hurriedly decided to drop the sabotage claims previously resolved and is presently sending relief
materials to the area through its Kidney island location to Bonny, however the secret has been let out of the bag already.
Furthermore he said SPDC has decided to carry out relief and compensation programme without bringing in the umbrella body of the fishermen in the area. The practice according to Barr. Pepple will distort the process, a lot of those affected would be left out and a lot will be compromised.
He advised SPDC to do the needful by inviting the Organization of Fishermen, Seafood Dealers and Farmers in the Niger Delta to a round table on the way forward as it remains the only organization that can guarantee transparency and equity to aid the process.
Similarly, members of the indigenous contractors association has cried foul over SPDC's decision to award the remediation and clean up job of the recent spill to non indigenes against the company's policy. According to its members, Mr. Dagogo Pepple and Tonye Hart who spoke to newsmen, Shell's policy is that once it is ascertained that the spill is not a sabotage, it will be awarded to indigenous contractors but in this instance shell has awarded the job to a non indigenous contractor even after ascertaining it is not a sabotage courtesy of the relief material sent.
Fishermen and women in the area are lamenting that they are yet to receive anything from shell a week since the incident occurred. Felicia Igbifa is a fisher woman who has her net drenched in thick crude, destroying her only source of livelihood. She said she is suspecting discrepancy in the relief disbursement. According to her, how do I take care of my children?
Others are also complaining urging Shell to establish contact with the fishermen union in the area to get proper enlistment in the event of compensation.
IMG-20141129-WA0001
IMG-20141129-WA0002
IMG-20141129-WA0003
IMG-20141129-WA0004