Lying Against me will make Ekiti people hate you more, Fayose counsels Fayemi, APC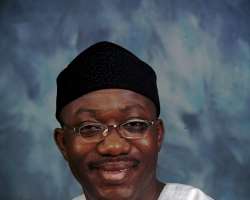 Ekiti State Governor, Mr Ayodele Fayose has counseled the immediate past governor of the State, Dr Kayode Fayemi and his party, the All Progressives Congress (APC) to face the reality of their permanent exit from government in Ekiti State and stop peddling falsehood on the Social Media, saying; "lying on social media will only make Ekiti people hate Fayemi and his APC the more."
Special Assistant to the governor on Public Communications and New Media, Lere Olayinka, said in a statement issued on Sunday, that it was an unintelligent way of telling lies for anyone to say that Governor Fayose bought a private jet worth N12 billion and had received N22 billion from the Federal Government.
Olayinka said; "the government has not received any special fund from the Federal Government since Governor Fayose assumed office.
He added that; "it is even an indictment on Fayemi for anyone associated with him to claim that Governor Fayose was able to get N22 billion special fund from Abuja within one month. It is simply saying that Fayemi was grossly incompetent if he was governor for four years and could not get additional fund for Ekiti State.
"Fayose did not buy any private jet and he has not received any N22 billion from Abuja.
"The truth is, Governor Fayose is working day and night to rescue Ekiti State from the financial mess that Fayemi and his government of financial devourers left it.
"Very soon, his efforts will begin to yield results and the results will be seen by the entire people of Ekiti."
Speaking further, Olayinka admonished the APC to provide a credible opposition to the Fayose-led government, instead of living a life of "one day, one lie" on the social media.
He said; "If the APC should continue to premise its opposition on falsehood, it will get to a level that no one will believe the party even when it says the truth."