63 people escape death as Overland plane crash-lands in Ilorin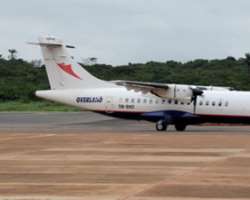 A total of fifty nine passengers and four crew members on board an Overland plane from Abuja to Ilorin escaped death by the whiskers on Saturday.
The aircraft overshot the runway at the Ilorin airport but in a statement by the General Manager, Public Affairs, of the Nigeria Civil Aviation Authority, Mr. Fan Ndubuoke, on Saturday, said no life was lost in the incident, which he added, was already being investigated.
'An Overland flight 1186, an ATR 72 aircraft with Registration number 5N-BPG from Abuja airport to Ilorin, carrying fifty nine passengers and four crew members,veered off the runway at low speed after a normal landing at the Ilorin Airport.
'The incident which occurred today Saturday, November 29, at 4.45pm, has no casualty recorded. However, the Accident and Prevention Bureau in conjunction with the Nigerian Civil Aviation Authority has begun an investigation into the cause of the incident.
'The authority wishes to use this medium to reassure Nigerians that safety of the traveling public is still paramount and cannot be compromised," he said.
Also, a statement by the management of Overland, which confirmed the incident and insisted that there was no crash.
‎ '‎It was a normal flight to Ilorin and standard procedures of flight were followed. The aircraft  landed safely at Ilorin Airport at 1645hrs as scheduled and decelerated  to a low speed, and in turning off the active runway, veered off the pavement.
'At the directive of the Pilot In Command, our cabin crew calmly evacuated all the 59 passengers safely and they were moved to the airport terminal. No passengers or crew sustained any injuries whatsoever.
'Our Ilorin passengers have since collected their baggage and gone home while the Ibadan Airport bound passengers will continue on Overland Airways to Ibadan Airport," the airline said.