2015: Governor Okorocha to address British Parliament on issues in Nigeria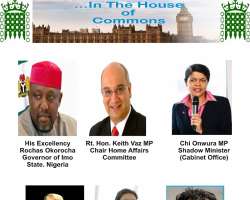 Governor of Imo State, Nigeria and prominent presidential aspirant in Nigeria Owelle Rochas Okorocha has been confirmed as the keynote speaker at a high-level conference slated for Thursday, 4th December 2014 at the British House of Commons.
The conference, organized by African Diaspora Agenda (ADA), UK in collaboration with BAME Labour, will be focusing on the activities that will shape many African communities, both on the continent and in Diaspora in 2015.
Of major importance at the parley will be issues around the attainment of the Millennium Development Goals whose timeline is 2015; political transition on the continent like the Nigerian election that is coming up next year; and change within African Diaspora host country, like the United Kingdom, whose general election is set for 2015.
Governor Rochas Okorocha, an active voice in the affairs of Nigeria and Africa in general, will be delivering a speech titled: Transition & Civic Engagements – What Does 2015 Portend? in which salient issues confronting Nigeria, and its Diaspora population will be broadly addressed. It will also give meaningful perspective to Nigeria's relationship with the outside world including the United Kingdom.
According to ADA's Continent Director, Lekan Fatodu, the parley is timely and strategically positioned to address the current needs of the African people, home and abroad.
"This parley has been strategically set at this moment – which we at ADA have termed the eve of 2015 – to send a strong reminder and message to all hands in the affairs of Africa on the challenges ahead in the coming year and how to tackle them frontally. The continent is still in dire need of purposeful leadership, political will and vibrant citizens to reverse some anti-developmental trends which include bad governance, insecurity, health crises and corruption amongst others and this important conference presents an avenue to addressing these issues with a framework to measuring outcomes and progress", Lekan said.
The conference will be hosted by senior members of the British Parliament namely Rt. Hon. Keith Vaz MP, Chair, Home Affairs Committee; and Chi Onwura MP, Shadow Minister (Cabinet Office). Also, top policy makers and influential personalities such as Claude Moraes MEP, Deputy Leader, European Parliament; Ka Jandu, Chair, BAME Labour; and Angela Gorman, Founder, Life for African Mothers are confirmed guest speakers at the conference.
The event is also planned to attract significant number of participants who are passionate about the advancement of Africa and are interested in investments on the continent.
THE PARLIAMENT 4TH DEC. 2014