NSCDC BOSS DR. ADE ABODERIN DEAD?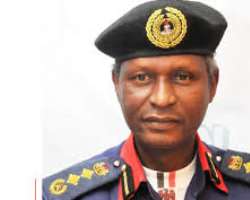 The Commandant General of Nigeria Security and Civil Defence Corps (NSCDC) Dr. Ade Aboderin is rumoured to have died yesterday in a foreign hospital.
According to sources knowledgeable to events around the oldest serving "service Chief" in Africa, his death may have resulted from severe burns he received in a fire incident last week.
It was learnt that the amiable NSDC boss was secretly flown out of the country for treatment.
The high degree of burnt he suffered from the incident may have been the cause of the rumoured death. Some officials of NSDC contacted feigned ignorance of the alleged fire incident and the consequent death of Dr. Aboderin