FG dangles hammer over Discos for rejecting power allocations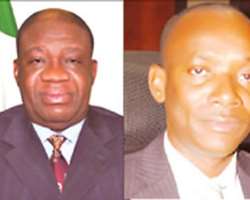 The Federal Government, Tuesday, accused some electricity distribution companies of refusing to accept electricity allocated to them, despite widening power distribution gap in the country.  
  Minister of Power, Prof Chinedu Nebo, who spoke at the 2014 ministerial briefing of the sector in Abuja, warned the defaulting firms to desist from the act or face licence withdrawal.  
  He announced that the Nigerian Electricity Regulatory Commission (NERC) has already issued queries to that effect.
  Nebo said: 'We have seen distribution companies rejecting power sent to them. I want the Discos involved to stop that or they will have their licences withdrawn by NERC.
  'There is no sense in starving Nigerians of electricity when power is being generated.'
  Chairman of NERC, Dr. Sam Amadi confirmed the development, stressing that the commission had sent its investigators to the field to further investigate the issue. 
  Amadi said the Abuja Electricity Distribution Company (AEDC) had already been queried in that regard, quoting some of Discos as blaming the situation on infrastructure and parlous transmission network.'
  He said: 'We have reports that some of the Discos are not taking up the load allocated to them under MYTO (Multi Year Tariff Order).Our people are on the field looking at the issue, visiting the Discos.
  'Some of the Discos complained about infrastructure while others blamed it on network or TCN.  Eko Electricity Distribution Company, for instance, complained of network. The query was to Abuja Disco only.'
  To ensure that distribution companies comply with its Credit Advance Payment Metering Implementation (CAPMI), NERC has issued a sub charge on the distribution companies who default.
  Henceforth, any Disco, which fails to issue meter to any consumers after 45 days of payment, would now pay N5000 as compensation to each of such customers.
  Amadi said the Credit Advance Payment for Meter Installation (CAPMI) scheme, which was initiated to augment the previous metering plan was not adhered to by the distribution companies, hence the new measure. 
  Each consumer who paid for three phase meter would be paid N10, 000 if  not metered 45 days after.
  He added:  'Many people have written to us to complain that they have paid for meters under CAPMI but have not received meters for more than three months now. It is regrettable that customers paid for meters and they are not supplied within same month, even years after. The 45 days installation period must be strictly adhere to for the benefit of the customers. The 45 days of meter installation under the CAPMI Scheme is one of the benefits a customer was supposed to enjoy. This cannot be compromised.'
  The CAPMI, according to NERC, was designed as an alternative for customers who are willing to advance money to their distribution companies for speedy installation of prepayment meters.
  It was was approved by NERC to immediately facilitate the deployment of meters to electricity consumers and check 'crazy bills'. Under the new system, distribution companies will refund the consumers who advance money for meters their money overtime using electricity credits.
  Speaking on the national grip, Nebo said: 'The national grid is limited in reach. There is extension to most of Nigerian rural areas. This leaves a majority of Nigerians who live in the rural areas without access to electricity. The available electricity capacity is insufficient to meet existing power needs. In spite of this shortage government is making effort to electrify the rural communities. Hence the need to reform and liberalize the power sector in Nigeria.'
  He announced that government was reaching out to manufacturing companies that had excess electricity from their private power facilities to contribute such to the national grid.
  Nebo noted, 'Government, in its efforts to get stranded power unto the grid, identified a number of companies willing to generate power and export to the grid. The federal ministry of power is coordinating the process with its relevant agencies. He listed such companies and their excess power to include: Ajaokuta Steel Company (N85MW); ALSCON (100MWs);Lafarge Cement (40MW); Obajana Cement Plc (35MW); Kaduna Refinery (33.5MW); Geometric Aba (22MW) and NESCO (26MW). - Guardian.