Bambitious: First Ever Movie to be Premiered In Enugu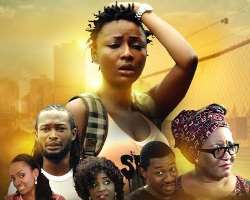 ...Sele Bobo, Pete Edochie, Mr. Ibu others set to grace event
It is a known fact that Enugu State has over the years been the African film production hub when it comes to location, and has contributed to the overall development of the Nigerian motion picture industry.
Above all these, it could also be observed that since the invention of film premiering in Nigeria, same Enugu has not recorded an occurrence of movie premiere, until the recent development which will serve as groundbreaking for others to follow.
However, the movie, Bambitious has enjoyed massive media hype since it came on the social limelight. According to findings, it will be noted after November 29, 2014 as being the first ever movie to be premiered in the whole of the Southeast region of Nigeria. It is actually a movie which has the most and well coordinated cast, crew and camera equipments; as it is a no rush or cut-joined documentary.
On what the synopsis entails, Bambitious' intent is to highlight the story of a modern-day and very ambitious young woman named Bambi, who epitomised Evita Peron – described as the "highest social climber since Cinderella".
Bambi got disillusioned with Frank, her boyfriend of many years, who was contented with living from hand to mouth. This lack of ambition was at the centre of all their fights. Then one day, Frank ventures to "open the door" for Bambi's exit – a move he later came to regret.
As being free of the wretched Frank, Bambi meets and sinks her teeth into the very rich, near-naive Jerry. He got so carried away by her beauty that he even proposed marriage before they got intimated.
Same day, Bambi realizes that she is pregnant. How would she pass off Frank's pregnancy as Jerry's? Then, there is the issue of his mother, a devout Catholic – who frowns at pre-marital sex. And the imminent trouble of Jerry's ex-girlfriend, Funmi Coker, who refused to remain in the past.
Bambi is running against time to fool Jerry, face his mother's wrath and outsmart Funmi Coker. With the help of her best friend, Ifeoma, they set about executing a fool-proof plan. But they didn't bargain that Frank will jump into the fray, demanding that his child will not be given to another man.
Bambitious stars the fast-rising Belinda Effah as Bambi, with the talented actor, Bucci Franklin as Frank. The award-winning Daniel K. Daniel is Jerry, while the delectable Idongesit Bruno played Ifeoma. Funmi Coker is classically delivered by the gorgeous Hekka Hedet, while the veteran Ebele Okaro-Onyiuke adds glamour to the cast as Dr. Ese Braide, Jerry's mother.
Shot in Enugu, it was written by Patrick "Koinage" Nnamani, while produced by Oracle Films and directed by Okey "the ORACLE" Oku. Meanwhile, the premiere has been billed for November 29, 2014 at Genesis Deluxe Cinema (Polo Mall), Enugu.
Bambitious is a small personal micro budget film with which the director, Okey Oku, wishes to capture through the exploration of enthralling experiences one witnesses at different localities of the society.

Arrangements are also being made for a global online premiere of the movie. All things being equal, viewers around the world should be able to watch the movie online, at the same time as the audience at the Nigeria premiere.

Interestingly, the Enugu premiere would be witnessing the presence of reputable showbiz celebrities, even as the likes of John Okafor (Mr. Ibu), Pete Edochie and Zack Orji have all shown commitment of attending such remarkable event. Also, Iyanya's Made Men Music signee, Sele Bobo will be present to thrill with music.© 2014Nollywoodgists.com