Suswam's 50th: What Mr. President would have seen in Benue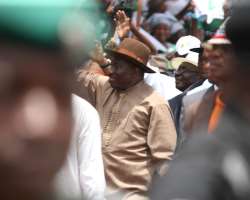 Last week the nation's focal lenses were featured on Benue state, the food basket of the nation, not because of the slogan but because great leader and a young and proactive performer, dubbed the "Infrastructure Governor", was celebrating his golden jubilee.
The occasion was supposed to play host to people from around the world, all walks of life and the president of the Federal Republic of Nigeria, Dr. Goodluck Ebele Jonathan, who was also supposed to commission and also witness once more for himself the wonderful performance of Governor Gabriel Suswam.
Unfortunately, His Excellency could not make it to Makurdi owing to pressing state matters, however he made sure his most trusted aide represented him at this epoch history making event.
Like Alexander the great, Gen. Aworofa came, saw and relished. If matters of state would have allowed Mr. President, he would have witnessed the strides of his greatest support stand- Governor Gabriel Suswam of Benue State.
If the president had come to Benue state, he would have commissioned another world class stadium( a feat acknowledged by his brother governor, Bar. Godswill Akpabio) renovated with world class turf laid by the executive governor of Benue State.
During the golden jubilee celebration of the infrastructure governor, a biblically similar feat was achieved, as the president's representative commissioned a modern worship centre at the Benue government house in the light of Solomon's temple of old. This was rightfully acknowledged by Senate President, Sen. David Mark when he reminded the crowd seated that only men ordained by God were allowed to build a worship place for the Lord.
Mr. President's pressing duties also denied him the opportunity to commission one of the biggest ultra - modern market built and completed by the Governor Gabriel Suswam administration to promote not only trade but also tourism. This world class market will create jobs for millions of Benue Youth and also put the state on the tourism map of the world.
Before Mr. President's visit there was an alleged claim of protests by faceless groups that civil servants were aggrieved and planned protest, His Excellency Sir, if you had come, you would have seen the shame of nay sayers and prophets of doom. Your representative will bear witness that the venue and state was filled with civil servants and people from the state who were calm and in a celebrative mood. Yes, workers have not been paid for some months which is a hard reality that is bitting hard on everyone of us but we are also aware that the sheets have not been rosy all over the country. Workers in Benue state still hold His Excellency, Dr. Gabriel Suswam to highest esteem as the first to raise their meager pay to where it stands today.
It was rather unfortunate that Mr. President was not in Makurdi when our amiable and people oriented governor turned 50 to witness the show of genuine love by people to a leader who has shown that service is total and absolute. I also use this opportunity to call on those who already drumming songs of blood bath to have a rethink, no individual or group of persons must be allowed to torment our peace because it is happening in the north east. No sane human can ever promote war or rancour and still expect the people to embrace his or her political platforms. We will never glorify what is evil in Benue State no matter where it is coming from.
Mr. President we wish you came!
Comrade Philip Agbese a Social critic writes from Makurdi.
Disclaimer:

"The views/contents expressed in this article are the sole responsibility of the author(s) and do not necessarily reflect those of The Nigerian Voice. The Nigerian Voice will not be responsible or liable for any inaccurate or incorrect statements contained in this article."
Articles by Philip Agbese