YouWin: Jonathan launches $50m Venture Capital Fund for SMEs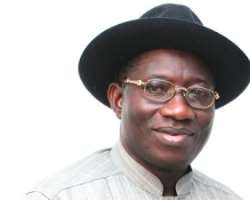 President Goodluck Jonathan on Monday  launched a $50million Venture Capital Fund also known as the YouWin Small and Medium Enterprise fund.
He also launched the fourth round of the Youth Enterprise With Innovation in Nigeria (YouWin) programme which is expected to create additional 1500 entrepreneurs.
'This fund will identify and further empower a few of you, some who are here and some new people that will join us, that are interested in expanding what they already have through the YouWin or even starting new businesses,' he said.
The President noted that the new fund will be managed by independent fund managers known as Capital Ventures Fund alongside the government and 'you will not need to know somebody to access it'.
He commended the efforts of the Minister of Finance and Coordinating Minister of the  economy Ngozi Okonjo Iweala who has so far successfully coordinated three batches of the YouWin programme, stating that from available records the first and second edition of the YouWin created 22,000 jobs.
'Hopefully when the disbursement of the third phase commences and by the time the fourth phase takes off we are expecting a minimum of 44,000 jobs created by young Nigerians for young Nigerians' he said.
He disclosed that 18,000 who did not directly benefit from the scheme were trained and were able to access fund from different sources
Earlier in her remarks, Okonjo-Iweala, disclosed that disbursements for the third phase of the Programme will commence shortly as the hitches have been cleared.
She said the programme which is three years old selected Nigerians based on the merit of their business plans.
Iweala added that another 1,500 entrepreneurs will be supported with grants between N1 million and N10 million to enable them improve or run their businesses and expand and create jobs.
YouWin entrepreneurial scheme,  kicked off in 2011. It is designed for entrepreneurs aged between 18  and 45 years. It has an objective of creating thousands of jobs by helping winners to strengthen and expand existing businesses as well as turn innovative ideas into solid businesses.
The second round of the YouWin programme was wholly dedicated to women in the country, while the third rounds were open to both men and women.