RE-HOW 2015 HAS TURNED UMANA UMANA TO A NAKED DANCER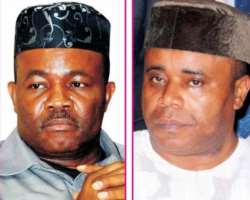 Akpabio and Umama O Umana
"Umana Okon Umana masterminded Political kidnappings and assassinations. Edidem Roberts Obot, a former Chairman of the Akwa Ibom Council of Chiefs who was until his death the paramount ruler of Nsit Ubium Local government area and Oku Ibom 111. Umana arranged the killing of the monarch because he did not support his evil aspirations in the Local Government Area." -#EtimOkon
Wow, wow, wow!!! Na so ?
So Umana Okon Umana killed all these men while in office as Akwa Ibom State Government Secretary, right? And he did all this under Akapbio' administration and Akpabio gave him the nod, is that what Etim Okon meant?! Wonder shall never end. While I do not want to exonerate Umana of culpability of any crime, it's just ludicrous to note that Umana now takes all responsibility for all crimes committed during Akpabio's administration. Is Etim trying to indict Akpabio of being culpable of unsolved murders and kidnapping but fronting Umana as machine deployed by Akpabio?
Can somebody do me justice and call Etim Okon to order before he hang himself? If he's trying to blow any Pandora box open, he should be able to feed us with details on how Umana committed all these villainous and heinous crimes. Some sycophants sometimes don't know when they're shooting themselves in the leg. There are more serious ways of committing Governor Akpabio to reeling out cash to you other than coming with a cock and bull story that will invariably hang the noose around Akpabio's neck. Or is he willing to tell us something in a rather winding way?
Granted, Umana committed these murderous crimes with Okon Etim as a star witness, but Etim did not raise a voice and not even reported this to the police. Is Etim not guilty of all these crimes by association? If you are looking for ways to coerce Akpbio to ditch out our uncommon money, and perhaps you're bereft of any good idea of staging a good dramatic monologue capable of bringing Akpabio to his 'sense' and do your bidding, I could help in some ways, brother.
Oh yeah, Umana kidnapped Michael Bush's wife too, right? Bush is Umana's friend and truly unflinching supporter. But his beloved wife too was kidnapped during the kidnapping spree in Akwa Ibom. Even when you didn't mention it here, but that's what you implied; as all the kidnappings where exclusively 'organanized and executed' by Umana Okon Umana according to your scrip. If we really want to evoke the kidnapping and politically motivated killings, a lot of heads will role, including that of Etim Okon for failing to inform the security agency of his knowledge as to how and who is the mastermind of all the politically motivated assassinations and abduction for ransom during Akpabio administration.
"Umana Okon Umana who is known to have sponsored the Kidnapping of school pupils around the State for his Occult sacrifices..." -Etim Okon
Even a lame dog could see very glaringly through the prism of scandalous fraud-induced exegesis; and that Etim Okon is rather struggling for his one last gasp to hoodwink the people of Akwa Ibom state and therefore coerce Governor Akpabio into belching the last sycophancy hard currency to one of the Chief praise choristers of Akwa Ibom State before he finally say goodbye to Hilltop Mansion. Even White Bom Bom known for spewing reckless and unfounded stories to curry favor could do more than this.
The key takeaway from Etim Okon's last moment gasp is that, he's aware and he's equally a witness to the killing of His Royal Majesty, Edidem Robert Obot, Paramount Ruler of Nsit Ubium, broad day light murder of Mma Philomina Udonwa, Rose Udoh and others; kidnapping of school children who are yet to be found, let alone returning to their parents even though they're not from Chibok, but Akwa Ibom State. The Police should invite Etim Okon for investigation. Where he fails to assist the police in this investigation, he should be charged for false allegations and claims.
Asu Nyong, is a political analyst from Akwa Ibom State.
Disclaimer:

"The views/contents expressed in this article are the sole responsibility of the author(s) and do not necessarily reflect those of The Nigerian Voice. The Nigerian Voice will not be responsible or liable for any inaccurate or incorrect statements contained in this article."
Articles by Asu Nyong