Could This Be Terry G? (Picture)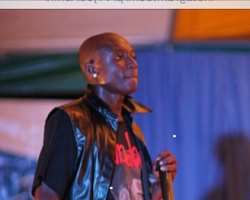 'Crazy' and eccentric pop star, Terry G just shared a stunning throwback picture of himself taken about 9 years ago, 2005 to be precise.
The Benue State born father of one was looking quite innocent and naïve in the picture he posted. His dreadlocks which is one of his defining elements was nowhere to be found, instead he was on total bald hair.
Terry G shared the picture with the caption: 'That's me performing at the rhythm unplugged 2005. Thank you LORD…Omo mehn, I try jorrr…still counting.'
In essence, Terry G is thankful for the strides he has made since his performance at the event when only a few people knew him back then. Now he has so transformed that one would find it very difficult placing his old and new pictures side by side.