Comedy is an Intellectual property—Obonjo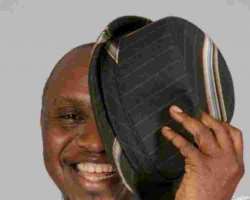 Benjamin Bankole Bello, who is otherwise known as Obonjo
Benjamin Bankole Bello, who is otherwise known as Obonjo, has been holding sway in the comedy world outside Nigeria, particularly in his country of birth where he currently resides (England). Through his sheer tenacity of purpose in what in knows how to do best, he has undoubtedly taken comedy to another phase through the use of animations, audio/audio-visual displays and other creative graphics all for the entertainment of his teeming fans especially those on Facebook,Youtube and other medium of mass communication. From recent survey Obonjo has successfully broken the jinx of making comedy only a task that can be exhibited on stage but a brain tasking initiative poised at ameliorating stress in people, to make them unwind irrespective of where they are, be it parties, shows, retreats, seminars, on the internet (facebook), radio, television, print media etc.
A number of people also calls for clarification whether Obonjo only concentrate on the well-to-do with a total neglect of the downtrodden; in his online interaction with Emmanuel Ajibulu, he outrightly refuted that erroneous perception and accordingly set the record straight by saying he has both local and international audience which cuts across all cadre of the society irrespective of class, colour, financial status, language etc. He even said a number of corporate organizations, NGOs, musicians, fellow comedian (home and abroad) have been involving him in some form of ''collabo-works'' and some with full contractual engagements which he has been honouring. He said he briefly came to Nigeria recently to anchor a wedding anniversary of one a sitting Governor in Nigeria (name withheld). Obonjo however maintain that he remains ''the Presidential comedy character'', a claim which his millions of fans often concur with.
Meanwhile, in the course of the long online interactions with Emmanuel Ajibulu he (Obonjo) was asked if it is possible for him to create some form of jokes for his fans, he swiftly reacted in his usual humorous manner and responded satisfactorilly. Hear him:
''Its 2047 Nigeria has grown in stature and is dominating the world stage, Nigerians are progressing and happy with their lives, a Strong and prosperous Nigeria is now reflecting very positively in the whole of Africa. The United States of Africa project is almost complete and in five years time, Nigeria will be joining Group. The US has asked for Nigeria's help economically, the Naira has more value than the dollar and the pound. Nigeria has won the world cup several times. The country has constant electricity supply one Nigerians cannot believe their luck.
To imagine the impossible is nothing read this its 2047 and President Obonjo of Lafta Republic has been duly elected President of Nigeria. He takes over from Pat Utomi after his Imagine the Possibilities Presidency.
''Obonjo has decided to appoint a Cabinet he says he would reflect almost every tribe in our Great Kantry. I promise to lead a "government of all the talents" I would look beyond party loyalties when forming my first administration in 2047. It will contain fresh faces. It will be an inclusive and listening Govament. It will be a Govament of impressions and accents I expect the whole kantry to be happier real progress will be made, Press conferences will be full of Lafta. Manifestos will be full of Lafta Strategies. The following have been appointed:
Ali Baba - Vice President
AY - Finance Minister
I go Die - Minister for Health
Gandoki - Minister for Information
Omobaba - Oil and Gas Minister
Klint the Drunk - Womens Affairs Minister
Seyi Law - Law Minister
Julius Elenu - Abuja FCT Minister
Pryncess Damilola - Mens Affairs Minister
Tunde Ednut Comedian - Youth Minister
Okey Bakasi - Minister for Works
Gbenga Adeyinka - Minister for Arts
Smile Pamilerini - Minister for Trade and Industry
Basket Mouth - Foreign Minister
Baba Suwe - Minister for Defense
Osuofia - Commonwealth Minister
Deola Onasanya - CBN Gomina
Impossible is nothing we can take our country back. Why...And as part of my policy of openness, anybody anywhere in the part of the world can book Obonjo the King of ''sitdon'' and online comedy as a Master of Ceremony, Host Compere, for all kind of events, product lunch, weddings, AGM, birthday parties, or any other social gathering whether corporate or otherwise; please call England on , I can equally be reached on the famous social network, facebook or send email to [email protected]''