Naira faces 15% devaluation —Report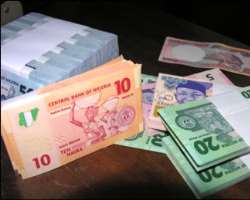 The naira may be devalued by 15 per cent, an Ecobank research has stated.
It hinged this on the recent drop in global oil prices that had forced the Central Bank of Nigeria to take some far-reaching measures in the past few weeks.
The report stated that recent developments suggested an informal devaluation had already taken place, with the CBN intervening to bring the naira back to N167 to a dollar.
'We expect a devaluation of up to 15 per cent in the weeks ahead, which would be around half the scale of the 27 per cent devaluation that occurred in November 2008. This was driven by the collapse of oil prices in preceding months, a similar situation that appears to be developing now,' the report said.
'Due to the bearish outlook for oil prices, the CBN is under growing pressure to continue supplying the dollar to the RDAS at previous high levels to support the +/-3 per cent N155 exchange rate. A formal announcement on devaluation may be provided at the 25 November MPC meeting.'
The naira will come under further pressure in the interbank market owing to strong dollar demand, the recent sharp fall in Brent oil prices, and uncertainty over the US monetary policy following the end of QE III in October, according to the report.
It recalled that the CBN had on November 6 issued two circulars to separately address naira volatility and unlock money market funds to the productive sectors of the economy.
They said the aim of the first circular was to reduce the pressure on foreign exchange reserves, while the second circular (money market) aimed to provide guidance on the remuneration of banks and discount house placements at the standing deposit facility to only N7.5bn ($477m).
Any bank or discount house deposits in excess of N7.5bn no longer qualify for remuneration.
'The November 6 circulars followed the CBN's circular of 28 October, which capped the spread at N0.01 between the CBN's dollar buy and sell rates in the interbank market. This FX circular also advised the transfer of some funds that were previously offered via the CBN's RDAS window to the interbank market, which increased pressure on the interbank FX market.'
According to the report, the CBN's actions are aimed at addressing naira pressures that have increased significantly in recent weeks. Agency report