Dame Jonathan takes divine recourse to solve security challenges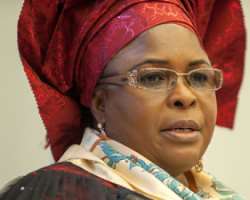 The search for solutions to the myriad of problems affliction the country got the First Lady, Dame Patience Goodluck Jonathan, once again taking divine recourse, as she urged Nigerians Sunday to continue in prayer for God's intervention on all fronts, especially insecurity.
Mrs. Jonathan, who paid a visit to the Catholic Prayer Adoration Ground at Emene, Enugu State, said she was encouraged by the determination of citizens to solve the security challenges facing the country through divine help.
She spoke as the fiery Enugu cleric and founder of Adoration Ministries, Rev. Fr. Ejike Mbaka, called on Ndigbo and all Nigerians to vote back President Goodluck Jonathan in the 2015 presidential elections.
Accompanied by the Deputy President of the Senate, Ike Ekweremadu, among others, Mrs. Jonathan urged all Nigerians to work together to make the country a better place, even as she appealed to mothers to bring up their children to know and practice good, against evil.
She noted that peace in the community must come through communal effort, stressing that such should not be left in the hands of government alone, even as she enjoined citizens to know their neighbours and be their brothers' keepers.
Commending the founder and members of the ministry for their continuous prayers for the peace and progress of the country, she said the government would not take such sacrifice for granted, while urging Nigerians to promote peace and love in their environment.
Fr. Mbaka had earlier told the First Lady that there was no threat to her husband's return to office as far as Enugu State was concerned, as indigenes see the opposition as working for the wrack of the country.
He insisted that Jonathan should be re-elected, while berating those tasking him to bring back the Chibok girls if he must seek re-election, as Jonathan is not the one keeping them hostage.
On his part, Ekweremadu said he has benefitted immensely from the ministry's prayers and wished that the President would also benefit to ensure his re-election. The Guardian