2015 Governorship; A Golden Opportunity Abia Southerners Should Not Trivialize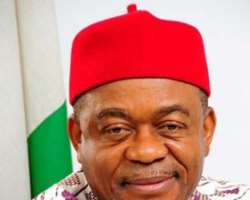 The human mind, at times, suffers from either induced or false amnesia. This is pronounced when man tries to write or narrate his past and deliberately obliterates critical ingredients or elements of his past. Any time this happens, man ends up presenting a truncated history.
Since processes that will end up in establishment of next round of democratic leadership in Abia State started about a year ago, many advocates of power shift to Abia South have, in their various arguments, reminded their audiences that since the creation of Abia as a state in 1991, none of the nine local government areas of Ukwa and Ngwa geo-political zone of the state has been able to produce a governor for the state.
This inability has been real despite the fact that a good number of indigenes of the zone, which is administratively known as Old Aba Division, had severally attempted being governor at one time or another.
In the first democratic election that took place in the state in 1992, the duo of Dr. Gerson Amuta and Chief Lambert Nmecha of blessed memory strongly aspired to become governor of the state on the platform of the defunct National Republican convention, N.R.C. At the Party's primary election, both Dr. Amuta and Chief Nmecha lost to Dr. Ogbonnaya Onu, who would end up becoming the first democratically elected governor of the state.
In 1998, which marked the commencement of Nigeria's third Republic, political personalities of the Old Aba Division were also in the race for the governorship of the state.
The likes of Architect Dan Nwankwo, Dr. Max Nduaguibe and Chief Chukwu Wachukwu came out with Vigour gunning for the governorship of Abia. Again, they lost to Chief Orji Kalu who emerged as the state's number one man.
2003 did not present any dull moment for the highly populated people of Old Aba Division. In that year, Chief Enyinnaya Abaribe, immediate past Deputy Governor of the state, relying chiefly on his gregarious 'Otu Onu' political outfit, strongly contested the governorship of the state on the platform of defunct All Nigeria People's Party; A.N.P.P. Again, the result was not different from those of 1992 and 1998. Chief Enyinnaya Abaribe lost to the incumbent Governor; Kalu.
Still determined to break the jinx of not producing the State Governor despite being the more populated zone of the state, the trio of Chief Okezie Orji, Hon Tony Enwereuzor and Radical Hon. Chinonyerem Macebuh were at the scenario of governship contest in 2007. As if the geo-political zone had some issues to resolve with destiny, the three lost as Chief Theodore Ahamefule Orji eventually emerged victorious.
Then came 2011. Chief Theodore Orji was constitutionally qualified to re-contest as an incumbent governor and he did. For the umpteenth time, another politician from Old Aba Zone, by the name of Chief Regan Ufomba, showed interest and contested on the platform of All Progressive Grand Alliance; APGA. Expectedly, Chief Regan Ufomba kissed the dust.
The combined experiences of the people of Old Aba Division in their previous quests to clinch the governorship of the state from 1992 to 2011 are a clear indication that a people who do not put their art together would only be like wanderers in a labyrinth. It is also a pointer to the indisputable fact that power, apart from being divinely determined, is negotiated.
In analyzing the challenges of the people of Old Aba Division to emerge as the Executive Head of their second tier of government, the histrionics of the development should not be limited only to the twenty three years of the existence of Abia State. Before the first Republic, the people of Onitsha had produced the Premier of Eastern Region in the person of Dr. Nnamdi Azikiwe, from 1954 to 1959.
When Dr. Azikiwe's National Council of Nigerian citizens, N.C.N.C., went into alliance with Sir Ahmadu Bello's Northern People's Congress; N.P.C., Zik, as Dr. Nnamdi Azikiwe, was fondly called, became the Governor–General of Nigeria while Sir Abubakar Tafawa Balewa of N.P.C. became Prime-Minister. As nature abhors vacumm, Dr. Michael Iheonukara Okpara, a prominent son of Old Bende became Premier of Eastern Region. Between 1960 and 1966, Dr.. Francis Akanu Ibiam; a world class statesman of Afikpo extraction, was Governor of Eastern Region.
Both during colonial and first Nigerian Republic, no indigene of Old Aba Division attained the height of either a Premier or even a Governor.
As it is chronologically clear, military interregnum separately lasted for twenty-nine years in this country. During that very dark era of Nigeria's nationhood, many military officers of Igbo origin were appointed military Governors of different states.
To begin with, Colonel Chukwuemeka Odimegwu Ojukwu was appointed the military Governor of Eastern Region by the Head of State and Supreme Commander of the Armed Forces of Nigeria; Major–General Johnson Thomas Umunnakwe Aguiyi-Ironsi. Ojukwu hailed from Nnewi. Rear Admiral Ndubuisi Kanu, Major–General Ike Omar Sandara Nwachukwu and Navy Captain Christopher Osondu, three of them from Isuikwuato, had been Military Governors during the period. Commodore Amadi Guy Ikwechegh, an indigene of Igbere in Bende was also a Military Administrator during the period under review. Air Commodore Samson Emeka Omeruah, who hailed from Ikwuano, was a military governor.
Should any body forget the very charistimatic Military Administrator of Lagos State and later Niger State; Commodore Ebitu Oko Ukiwe of the ancient Abiriba entrepreneurial origin?
The list of military officers of Igbo extraction that served as Military Governors or Administrators may not easily be exhausted here. By the time one remembers the likes of Commodore Alison Madueke, Colonel Chinyere Ike Nwosu and Lt. Colonel Anthony Obi, who all were military governors at one time or another, the question that glares one at the face becomes, where were the people of Ukwa and Ngwa all through that longperiod? It was obvious that no Ukwa or Ngwa man had enough contact to influence being a military Governor. The highest position an officer from the whole of Old Aba division could attain during that era was merely an Acting Military Governor of Anambra State which was achieved by Group captain Monday Ikpeazu when the Governor was on leave.
A frank deduction here is that the people of Old Aba Division have not, so far, only failed to harness their natural numerical strength in order to galvanize their political fortune and growth in a democratic setting but equally proved incapable of establishing any network of meaningful contact that could have enabled, at least, one of their own to have emerged a military governor during the days of military dictatorship when what mattered was merely who one knew.
The above scenario, which slightly tilted towards hopelessness and frustration, should not currently be forgotten by the people of Old Aba Division as the leadership of People's Democratic Party; P.D.P, in the state, under the philosophical guidance of Governor Theodore Ahamefule Orji, has, purely out of democratic philanthropy and magnanimity; expressly resolved to have the next Governor of the state come from Abia–South senatorial zone of the Old Aba Division.
This posture by the People's Democratic Party is an exemplary manifestation of uncommon commitment to equity, fairness and natural justice.. Who ever that raises an eye brow against this justifiable popular resolution of the Party must surely be an enemy of democracy and natural justice. It is, however, very strategic and of utmost importance that the people of Old Aba Division should naturally realize that what Governor T.A. Orji and the People's Democratic Party are irrevocably set to do for them is equivalent to handing power over to a people purely on a platter of gold. They should not mismanage it. At this stage in their political history, common sense demands that they should encourage the leadership of P.D.P. assist them achieve what they brazenly proved incapable of realizing since ages. They should eschew internal bitterness amongst themselves; a characteristic trait that had been their bane since time immemorial.
No matter their individual frame of mind and urge for power, Abia 2015 Governorship should be perceived by all and sundry in Old Aba Division as a golden opportunity that should not be trivialized and allowed to slip due to inclination to unpatriotic individualism and its attendant inordinate ambition. A stitch in time, can always save nine.


Chief (Sir) Don Ubani; ksc, JP
(Okwubunka of Asa)
Umuiku-Isi-Asa, Ukwa-West
Disclaimer:

"The views/contents expressed in this article are the sole responsibility of the author(s) and do not necessarily reflect those of The Nigerian Voice. The Nigerian Voice will not be responsible or liable for any inaccurate or incorrect statements contained in this article."