''PETER OBI, NOT HAMATH'' FORTRESS OR CITADEL OF NDIGBO but ''HAMMON,HAMMURABI'' KING OF HOT SPORT FOR POLITICAL HARLOT.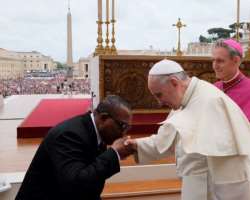 The APGA Israel Chapter Leader Prince Fuibek Ibeh on his vote of thanks to APGA Youths in Yafo Tel-Aviv who receive him in his visit to their ward said that Peter Obi intelligence is not as that of late Chief Dim Chukwuemeka Odumegwu Ojukwu, the founder of APGA or the current Governor of Anambra State Chief Willie M. Obiano, and all
the members of APGA and Ndigbo intelligentsia. He said that APGA has more honest men, women, boys and girls who are not in power' that is better than Peter Obi with his eight year experience put together.
Prince Fuibek Ibeh said that Obi is not a Hamath to APGA, Ndigbo, Nigeria or PDP. He asked how can our youth who are in politics look up to the politician like Obi, whom there party gave fame, money and power, who turned out to become Hammon, Hammurabi'' The king of hot spot for political harlot. Prince Fuibek Ibeh said Obi is one whom Ndigbo will shun his way of politics in their land, because he is not a model.
He ask the youth what can Obi achieve in politics without APGA in Igbo land. He said Obi in his eight years as a governor did more harm to APGA than now. He said Obi committed more sin in APGA in his days. He refused APGA in Anambra State LGA election, and by this didn't empower our party, He seek to be the BOT Chairman of the party instead of Rochas Okorocha' and with this forced Okorocha to leave our party. He imported Maxi Okwu from another party to remove Umeh, the National Chairman of our great party and with this kept our party in court for years. He plotted the loss of the election won by late Dora Akuyili, just because she is from his home town, and he wanted to move to PDP.

We ask him, Obi to go and confess his sins to Pope in Rome, he went and shook hand with pope. He is not a true catholic.
We, APGA interceded for him on his second term to our late leader, this time we cannot intercede for him to come back. He is a Hammon not a Hamath, our youth should look up to men who would move them with intelligentsia like late Ojukwu, Governor Willie Obiano, Umeh, and other APGA Faithful.
Prince Fuibek Ibe resides in Tel Aviv Israel