BUA supports cement price reduction, commends Dangote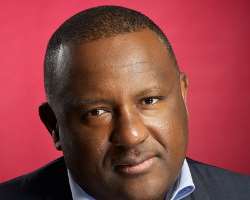 The Chairman of BUA Group Alhaji Abdulsamad Rabiu, has thrown his weight and support behind the  Dangote cement reduction on the cost of unit bag of cement to N1000, a 40% price cut which was announced yesterday. According to Rabiu, he has always been concerned about the high cost of cement in the country and has always advocated for a reduction of the cost so that more Nigerians can have access to the product and realize their dream of owning their own houses. 'It is against this background that I commend Alhaji Aliko Dangote for this patriotic initiative which is long overdue'. He further revealed that he held extensive discussion with Aliko on this issue in a telephone conversation last weekend and  encouraged him on the initiative.
'What Aliko has done today is significant. I am very pleased about it because it would make the cost of the product more easily affordable to Nigerians. With the price being low, it will result in more consumers buying the product which will drive up volume and increase market share for all stakeholders. I hereby urge all cement producers to emulate Dangote and bring down the cost of cement. There is absolutely no reason for a bag of cement to cost so much. While it is true that we have infrastructural challenges it is not so much as to make the cost of cement so expensive'.
'On our part, I have already directed all our plants to follow suit and implement the new price regime. We still believe that more can be done to bring down the price even further for the benefit of Nigerians'. There is really no reason for cement to cost more then N1000 per bag, bearing in mind the massive success of the backward integration policy which implementation commenced 12 years ago, in which tens of billions of dollars has been directly and indirectly injected into the Nigerian cement industry with Dangote cement accounting for more of this. This has seen cement national productivity rising from a mere 2.2 million tonnes to over 30 million tonnes. BUA group acquired the Edo State Cement Company three years ago and has pumped over $500 million in putting up a greenfield, 3 million tonnes per annum plant deploying the latest technology in cement production. The plant is billed to be commissioned in the first quarter of next year. From its 500, 000 tonnes capacity annual production to 3.5 million tonnes per annum. The company also has controlling equity in Sokoto Cement Company also known as Cement Company of Northern Nigeria which is also being expanded with an installation of 1.5 million tonnes per annum. Construction is in progress and is expected to be commissioner in early 2016.