ASA-World warns Anambra leaders and Stakeholders against kneejerk reactions.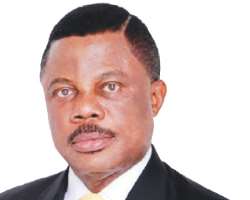 We have been reading mud-slings and innuendos from Anambra leaders and their designate on the internet that points to clear in-fighting between the various Anambra partisans and we, members of Anambra State Indigenes from the Diasporas (ASA-World) demand an immediate stop to them. We all remember vividly and not so long ago when Anambra State was the "laughing stock" and the butt of all the jokes in Nigeria because of such in-fighting and lack of accountability to the citizenry and we all remember the consequences to Ndi-Igbo in general.
From "home for all", to "the light of the nation" Anambra State of Nigeria continue to send a subliminal messages that implies that if it is well with Anambra, it shall invariably, be well with Ndi-Igbo and Nigeria as well. As the gateway to the Igbo land, Anambra leaders and stakeholders must understand the consequences of their actions and reactions to Ndi-Anambra and consequentially to Ndi-Igbo in general. In other words, Igbo leaders must be aware that instigating and or reacting to instigation or an expressed habitual attitude or prejudice without thought of consequences is detrimental to the wellbeing of Ndi-Anambra and consequentially to Ndi-Igbo in general.
We understand the need for the leaders to "feed the beasts in them" (their egos), but we must take a moment to think of the value added and or consequences to the people that depend on them for their daily lives. We preach to the unconverted when we "talk out of both sides of our mouths". The principle of one Governor at a time detects that once we elect a governor, we must rally around them to do right by the citizenry. We must also, give due to those who have served the public with distinction. For those who have served with distinction, their records speak for itself. Any attempt to remind the people of serve(s) already on record is nothing more that preaching to the converted.
Governor Willie Obiano and his administration need to stay focused because we, (Ndi-Anambra) expect better days from them. We are proud to say that Governor Willie Obiano started well with his laser-beam on Food Security and with setting up committee for Agricultural Blueprint. The result of his security effort is restoration of peace and stability throughout Anambra State today in ways that has not been seen before. Today Anambra State is the safest place in Nigeria. We are looking for more progress in his other blueprints that he outlined at his inauguration. Let's focus on those blueprints for sustainable development and continue on the pathway to progress in our noble state.
Credit must be given to Ex-Governor Obi for his service excellence to Ndi-Anambra; specifically, in area of education, road networks, stable civil society and good governance. We wish him well in his future endeavours. If Ex-Governor Peter Obi wants to diversify and to improve his political fortune by joining PDP, it is okay to do so, but it should not be at the expense of the gains already made in Anambra States and certainly not to the chagrin of the current Governor, Willie Obiano and his family.
If his pathway to a different political party is handled properly, it might result into a win-win opportunity for Ndi Anambra and Ndiigbo. Judgement on his transition to a different political party should be reserved. He has served Ndi-Anambra well. History will either vindicate or condemn him for his transition. It is not customary for Ndi-Anambra and or Ndi-Igbo to stunt its people growth. Common sense dictates that we should stay back and allow history to play out.
All members of ASA-World having been reading the mudsling in circulation on the internet from various leaders against each other, unanimously voted to sound this note of warning to the leaders from the respective isles and their handlers;
1. To "cease fire" between both camps for the sake of Ndi-Anambra and Ndiigbo
2. We demand a complete halt on media and internet attacks from the respective isles
3. A reminder to all that no one person is bigger than the people of Anambra; Governors come, and Governors go but Anambra remains for us all
4. Therefore, ASA-World recommends an immediate reconciliation, preferably, behind closed doors. Loose lips it is said sinks ship.
ASA-World is the umbrella organization of all the Anambra people in diaspora. We are a neutral, non-partisan and non-political organization. We do not support any candidate or political party. We work in concert with a legitimately elected government of the day, credible NGOs and stakeholders to "do right" by our brethren in our home state. We fashion ourselves to the roles of an "ombudsman" and or an intermediaries for the good of the poor and the marginalized. We are not formed by any government and therefore, do not answer to any government and or interest group. We are constituted by over 30 Diaspora Anambra legitimately registered Association globally; from Canada, United Kingdom ,United States, Spain, South Africa, Russia, China, Japan, Ireland, Iceland, Holland, Pakistan, India, Dubai, Greenland and more. Our information on the goings in our homeland come from our family members who are impacted by the actions and the actions of the
stakeholders, our direct involvements, and published and respectfully vetted information print media.
Because we are non-political, we embrace all stakeholders from varying political stripes and interest groups, irrespective of their political persuasions. We do not "pander to and or divide" for political gains. Our pursuit of Sustainable Development is the single motivator for rallying over 30 Diaspora Anambra legitimately registered Association globally; from Canada, United States , United Kingdom, Spain, South Africa, Russia, China, Japan, Ireland, Iceland, Holland, Pakistan, India, Dubai, Greenland and more to work with all Stakeholders in through projects and programs in making a difference in the lives of our people.
Rank after all, should not confer rights and or privilege, it rather should impose responsibility. Those leaders entrusted with public trust must conduct themselves with humility and fairness. Those people that are privileged with the public trust must have acute sense of their places in history, as such, must be guided by clarity of purpose.
They must not be distracted by the actions of sycophants that surround them. They must be the "profile in courage" and the audacity to "do right" by those who entrusted them with their most cherished gift( their trust)
Respectively Submitted;
Chudi Asidianya, BA, MA, LSC Dr. Nwachukwu Anakwenze
ASA –World General Secretary Chairman Anambra World-wide (ASA –World)
In solidarity with ASA-World secretariat, houses the official records of our member countries network from ASPA Canada, ASA-UK (United Kingdom), Anambra Leaders in the USA, ASA Women in the United States, China, Russia, ASUANJ (ASA Japan), ASA China, ASA South Africa, India, Dubai, Ireland, Iceland, Pakistan, ASA Valencia, Spain; ASA Ireland, ASA-Finland, ETC.
CC: His Excellency, Peter Obi
Ex-Governor, Anambra State of Nigeria
CC: Governor His Excellency, Willie Obiano
Governor, Anambra State of Nigeria
CC: Anambra State Elders, Chiefs and Stakeholders
Disclaimer:

"The views/contents expressed in this article are the sole responsibility of the author(s) and do not necessarily reflect those of The Nigerian Voice. The Nigerian Voice will not be responsible or liable for any inaccurate or incorrect statements contained in this article."