We won't support Jonathan in 2015 —Northern elders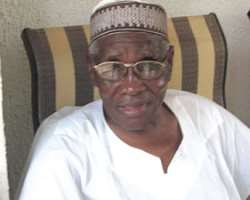 As President Goodluck Jonathan declares his intention to run for second term in 2015, leaders of the North, under the auspices of the Northern Elders Forum, have expressed their decision to support any presidential candidate presented by the All Progressives Congress in the 2015 election.
They expressed their grievances with the ruling Peoples Democratic Party over the automatic ticket issued to President Goodluck Jonathan to seek a second term in the election. This, the elders said, had prevented aspirants from the North from contesting on the platform of the party.
The national leadership of the PDP, including the Board of Trustees, the National Executive Council and the National Working Committee, had unanimously adopted Jonathan as the consensus presidential candidate of the party.
In separate interviews with our correspondent on Friday, the Deputy Chairman of the NEF, Dr. Paul Unongo and spokesperson of the forum, Prof. Ango Abdullahi, stated that despite Jonathan's power of incumbency and the deployment of state resources at his disposal, he would not win the election if the region voted against him.
He said, 'Our position has not changed. We don't mind him contesting, but we are not going to work for him to become president of this country again because we don't believe that we have had any president that has been so divisive; that has heightened religious tendencies, hatred, ethnic militancy, high rate of impunity and a tremendous amount of insensitivity.
'The majority of northerners and the majority of Nigerians will decide for us and for the APC. We are not into party politics, but the APC has shown respect and deference to the North by allowing the North to produce its (presidential) candidate. But the PDP shut the door, saying there is nobody else but Jonathan; that he is the best for Nigeria. That is a lie.
'If not from the North, let somebody else come to contest; we will support him.'
The Second Republic Minister of Steel decried the abduction of over 200 Chibok schoolgirls by Boko Haram on April 14 and that they remain in captivity over six months after.
He said despite the claim by the Federal Government that it had reached a ceasefire deal with the sect and that the girls would be released, the insurgents had continued to launch attacks and kidnap more people.
Similarly, Abdullahi stated that the NEF would carry out its threat to frustrate Jonathan's re-election bid, as the President had failed to secure the release of the Chibok girls before the end of October.
The Presidency had dismissed the ultimatum issued to Jonathan by the forum on August 11, 2014 to produce the Chibok girls or forget about his 2015 ambition.
Abdullahi said, 'We did not even put 'if.' He should just forget about 2015. We cannot support him for 2015 for whatever reason. What we said would only confuse those who doubt; we have never doubted his failure. We have always believed that the man is incapable of running this country.' Punch