Kcee, Please Help The 4year Old Boy Bitten by Dogs in Igando and Leave Cars Alone By Nathan Nathaniel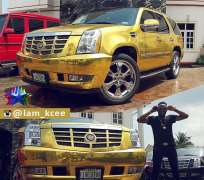 No hating or what so ever, but does singer, Kcee, seriously need fleet of cars just to show how excited he is about his fortune after a tough journey in life? There are mistakes being made by the leader's year in and out and as such, well-meaning Nigerians are supposed to come out and help salvage the situation. Do people truly know the essence of coming to this earth at all?
Let's face the fact please, there are people in need of help (financially) in hospitals and some Nigerian celebs are lavishing money living a material life style and when people complain about it, they give the excuse that they went through hell before getting to stardom.
Analyse this case study, the four year old boy that was bitten by dogs in Igando, Alimosho LGA, is badly in need of financial help to survive the dog bite which almost damaged his skull and someone like Nigeria's rewarding singer, Kcee can actually help but prefers buying cars year in and out.
Recently, the singer acquired a new 2014 Cadillac Escalade worth millions and as usual, went flauting it on his social media page with the caption, "So far this year God has been so good to me, sold out concerts, successful tours, endorsements e.t.c. So I decided to bless myself with a new Cadillac Escalade. My fans are still my greatest asset, so I've decided to give out Scholarship to any level before the year runs out and also another Miss fine face contest with bigger & better Prizes. #i love my fans #Kcee #five star music #ogadinma."
Everyone prays for good things of life but how one spends it matters a lot. Some people were born with silver spoon while some were not and have to struggle to get to the top. Once wealth is not measured by the level he has attained in life but by the care he has given to a fellow human.