AN ILLUSTRIOUS SON OF OHAFIA HONOURED BY THE UNITED NATION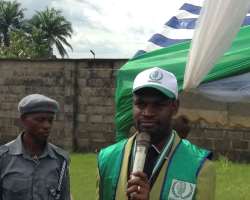 Rev. Dr. O. J Nelson addressing the Audience after his appointment as UN Youth Peace Ambassador
It's indeed an august and epoch-making event as all roads leading to Ohafia on Friday, 24th Oct, 2014 experienced a high traffic congestion. People travelled from all nooks and crannies of Nigeria to celebrate and witness the flags hoisting of Rev. Dr. O.J. Nelson, The General Overseer of the Greater Ark of God Ministry Int'l and also the founder/president of Victory Assurance Movement. Ohafia recorded another historic event because this is the first of its kind. An illustrious son, a son of the soil, a worthy son of the land as professed by the elders of Akanu Ohafia who came to celebrate with Dr. O. J. Nelson in his appointment as the United Nation Youth Peace Ambassador and justice for peace of UN-POLAC Peace Programme Nigeria.
Dr. O.J. Nelson was decorated before everyone present at the occasion at the Oasis Hotel Akanu Ohafia and after which both the National and United Nation flags were hoisted in his home at Akanu Ohafia. His Excellency Obong Dr. Halo B. Eton, the International President (Mayor of Peace) UN-POLAC who also marked his 62 birthday at the event in his speech" There is no reward without service, one man's vision is peace but it's everybody mission, those who volunteered to help others live longer, practice every aspect of cardinal existence and imbibe peace as a culture, that's the only sure way for a sustainable development of any community, state or country. UN-POLAC is still looking for a genuine volunteers to work for peace across the nation. Volunteer yourself to join UN-PLOAC Peace Programme Nigeria to make the world a better place for human existence. Peace is what UN-POLAC stands for, peace we spread and peace brings the needed love, so be an agent of peace."
Dr. O.J Nelson was decorated by His Excellency Rt. Rev. Prof. Chidi Ehiriodo (Ambp, Mp) UN-POLAC country representative Nigeria. Other award recipients at the occasion were Amb. Sir. Chikwe Udensi (jp) who was represented by Hon. Michael ikpe, Sir Philip Kalu Ogbonna, Obong Anwan Elizabeth Nna and Evang. Cornelius Ulu kalu.
Teeming fans of Dr. O. J. Nelson considering his tremendous works to humanity and other of his peace projects asked Dr. O.J Nelson to vie for Abia State House of Assembly to represent Ohafia state constituency come 2015, they said with Dr. O.J. Nelson they are sure of quality representation in the state House of Assembly. Dr. O.J. Nelson thanked everyone who despite their tight schedules make out time to share in his joy and join him in this epoch-making event and promised to represent UN-POLAC Peace Programme Nigeria without a compromise and ever ready to give all without reservation for the sake of PEACE.
Disclaimer:

"The views/contents expressed in this article are the sole responsibility of the author(s) and do not necessarily reflect those of The Nigerian Voice. The Nigerian Voice will not be responsible or liable for any inaccurate or incorrect statements contained in this article."