TB Joshua Alarmed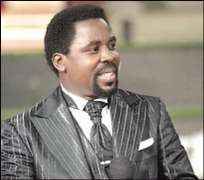 Disciples of , the General Overseer of Nigeria-based Synagogue Church of All Nations (SCOAN) say the Man of God is alarmed over attempts by a section of the media to give him an 'unholy' colour.
The disciples therefore described stories published by some newspapers concerning the prophet as sheer concoctions.
Reverend Sam, the leader of the disciples, speaking to DAILY GUIDE , denied the allegations that T.B. Joshua predicted victory for the Nigerian Under-17 national soccer team, the Golden Eaglets, over their Swiss counterparts in the recent Under-17 World Cup finals.
He quoted the prophet as saying to them "go and fast for your brothers. They have about five hours or seven hours to begin their game" during a testimony period in SCOAN, Nigeria.
He explained that the Prophet, formally a footballer himself, currently has a football team purposely for charity work called 'My Peoples Football Team' from which two of the team's players, namely Sani Emmanuel and Ogenyi Onazi, after football trials in Sweden for six months, joined the Nigerian Under-17 team to play the recent FIFA Under-17 World Cup.
He narrated that during testimony session, members of the football team stood in for their team mates to ask for God's favor and success for the country. However, when a representative from the team was telling the church how the two players had come this far with success, the prophet questioned why they would not wait till the match was over before they gave their testimony but they insisted. So he asked them to go, fast and pray for their brothers.
Reverend Sam however revealed that Sani Emmanuel, who has to his credit eight goals, lived in the synagogue for five years when he was brought there by his father after the death of his mother.
During this time, accepted the 12-year-old boy as part of the big family living at the church. He then became part of the football team where he began his training and he was reported to be acting strictly according to the prophet's instructions and that, Reverend Sam said, had brought him this far.
Reverend Sam again deflated the assertion that T.B. Joshua had predicted that the Nigerian senior soccer team, the Flying Eagles, were going to win their match against the Kenyans in the South Africa 2010 qualifiers.
He recounted that again during another testimony, a Nigerian Ambassador, John Fashanu, a special advisor to the President of the World Cup 2010, Nigeria, questioned the pastor on how they were going to perform against the Kenyans, but the prophet told him, "We do not have any problem with the Kenyans no matter what happens that day; our problem is Tunisia and Mozambique. We must come together to fast and pray and say Amen".
All these, Reverend Sam said, is evident from a video recording he gave DAILY GUIDE .
He described T.B. Joshua as "a prophet of God who does what the Creator tells him to and he does so confidently".
The 46-year-old Prophet, born to Christian parents, Kolawole Balogun and Adesiji Kolawole Balogun, both dead, had to live with a Muslim uncle for sometime.
Narrating the early part of his life to Sunrise Magazine, Prophet Joshua said the beginning of his life had been full of struggles because he had to do menial jobs like collecting fowl excreta before he could get a meal a day.
He narrated that though a Christian, he had to go to a Muslim secondary school but could not complete because they would not allow Christians to read their bible in school. So he left due to the pressure in the school.
Before he was born, Sunrise stated, he spent 15 months in his mother's womb and miraculously escaped from a dangerous flying stone, seven days after his birth which was as a result of the force of a machine that was being used to drill a borehole for his community. "Nobody saw me being carried, they only saw me in a different direction," he told them. "Thereafter, I was given about 30 names, all relating to the incident," he added.
He explained that though life was hard for him, he knew from the onset that he had to worship God.
With this in mind, he began ministering to people through his leadership in Scripture Union when he was in St. Stephen's Primary School.
 "I was in a trance for three consecutive days, where God ministered to me. Since then, I have been receiving my vision according to my faith." By Jessica Amponsah