Rivers 2015: Dame Jonathan Plots Meeting to Hand Wike PDP Ticket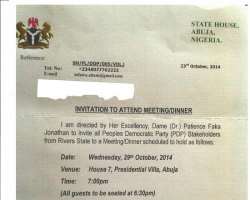 It has emerged that the embattled Peoples Democratic Party (PDP) governorship candidate in Rivers State, Chief Nyesom Wike has blackmailed First Lady Dame Patience Jonathan into convening a meeting to make him the party's governorship candidate.
Political associates of Wike, the immediate past Minister of State for Education are reportedly worried that his growing image problem may cost him the ticket in a free and fair primary election.
Aside deploying thugs to beat up perceived political oppenents, their supporters and journalists at a recent PDP meeting in Abuja, the former minister, among several slips, was recently caught on tape urging Rivers people to vote out President Goodluck Jonathan next year.
Pointblanknews.com gathered that Wike's latest plot was to blackmail Mrs Jonathan into convening a meeting at which the former minister would pull a political stunt on the First Lady to force other aspirants step down for him.
The First Lady hails from Okrika, a key Ijaw town in Rivers State.
An unsuspecting Mrs Jonathan has reportedly swallowed Wike's bait and convened a meeting for Wednesday 29th October 2014.
The garrulous former minister has been reportedly boasting that the First Lady would hand him the PDP ticket "with or without primaries."
Wike had reportedly told associates and friends of Mrs Jonathan that considering the "heavy patronage madam enjoyed" during his tenure as minister, the First Lady stood to benefit immensely if he became governor.
Wike, a source offered, has cajoled the First Lady into convening a meeting where he would be presented as the "consensus candidate of the Rivers PDP family."
Added the source, "highpoint of the meeting would be to ask whoever has anything against the consensus candidate to indicate by raising his or her hand, knowing fully well that very few persons would be willing to so brzenly oppose the First Lady"s annointed."
A copy of the notice of the meeting sourced by
Pointblanknews.com listed the venue as House 7 of the presidential villa, Abuja. Time was 7pm.
The invitation, which was dated 23rd October, 2014, and captioned "Invitation to Attend Meeting/Dinner" was signed by one M. O. Abam, Director of Protocool to the First Lady.
It read, "I am directed by Her Excellency, Dame (Dr.) Patience Faka Jonathan to invite all PDP stake holders from Rivers State to a meeting/dinner…"
The letter, which bore reference number SH/FL/DOP/005/VOL. 1, advised all guests to be seated at 6.30pm, concluding, "Please accept the assurances of the best wishes of Her Excellency, the First Lady."
Pointblanknews.com gathered that the letter has angered several PDP leaders in Rivers State, who have vowed not to attend what they dubbed "Wike's dinner."
Declared an enraged party leader, "This is very insulting. I don't want to believe Her Excllency is such a sham. The notice of a supposed meeting with the First Lady coming less than 48 hours before the event? What is more, the letter was channeled through Elder Obuah, a man the whole world know as Wike's lap dog.
"With due respect, the office of the First Lady should know better, the reason I doubt the authenticity of the letter. Wike's fingerprints are all over it. We know it can't be a dinner. I bet it is Wike's game to make madam wield the stick on any aspirant who wouldn't step down for him. This is so dumb," he fumed.
Pointblanknews.com also gathered that the letter, which claimed to be for "all PDP stake holders from Rivers State" was exclusively delivered to governorship aspirants, leaving out key stake holders like members of the Board of Trustees.
"See why the meeting is dead on arrival? I don't think anybody worth his salt will attend that meeting. If truly the First Lady allowed Wike hoodwink her into calling such a meeting, then be assured only two of them will fill the banquet hall on Wednesday.
"We have heard Wike boast about his connections to the First Lady, and how she will make him governor whether the people like it or not. So this is the agenda? My brother, this plot will fail," he declared.
The post Rivers 2015: Dame Jonathan Plots Meeting to Hand Wike PDP Ticket appeared first on Pointblank News .