2015: Mark weeps at Benue South endorsement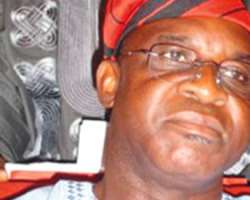 Tears of joy rolled down Senate President David Mark's cheeks yesterday as he accepted the 2015 Peoples Democratic Party (PDP) nomination form from constituents of Benue South Senatorial District.
Mark accepted the district's endorsement to contest next year's Senate poll, which holds in February.
The nine local government council chairmen in Benue South Senatorial District purchased the party's nomination form in Makurdi yesterday and presented it to Mark.
Accepting the nomination form in his Otukpo country home, Mark said: 'I will not depart from the path of honour, justice and equity in the service to my country men and women. This is the covenant with my people.
'For this trust and confidence repose in me, I cannot afford to fail. Let us work together as a team. I will give the last pant of my blood to serve my people diligently. Together, we can reach the Promised Land.
'You all defied the heat, the scorching sun to gather here for my sake, to represent you in the Senate. This is unimaginable. Your sacrifices will not be in vain.
'This endorsement speaks volume of the immeasurable responsibility on my shoulder by my people. Please pray for me that God gives me the grace, wisdom and courage to continue to serve to the glory of God and benefit to humanity.'
Senator Mark intermittently wiped tears from his face just as the massive crowd surged to have a handshake with him and his wife, Helen, at the event.
In his remarks, the Deputy Governor of Benue State, Chief Steve Lawani, said the endorsement of the Senate president was a confirmation of the position of the state government because of Mark's unprecedented achievement in the Senate.
Interior Minister, Abba Moro who earlier led a delegation to obtain the nomination form in Makurdi, the state capital, said the people of the zone were overwhelmed by the outstanding record of Mark and therefore decided to return him in 2015 to continue the good job.
Earlier, the state party Chairman, Dr. Emmanuel Agbo, while issuing the nomination form, said the necessary procedures and documentations had been complied with on Mark's nomination.
Agbo, however, assured of a level-playing field for all aspirants even as he urged them to play by the rules. The Sun