Jonathan approves 4% collection cost for DPR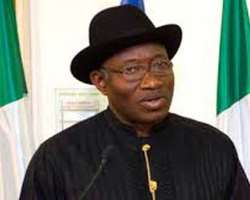 President Goodluck Jonathan has approved the retention of four per cent cost of collection by the Department of Petroleum Resources, investigation has shown.

This means that the agency will retain four per cent of the revenue it collects on behalf of the Federal Government and the other two tiers of government every month rather than depend on budgetary provision for its operations.

The Department is empowered by the Petroleum Act of 1969 as amended, to collect royalties on producing concessions on behalf of the Federal Government of Nigeria.

Monies so collected are paid into a designated Royalty account with the Central Bank of Nigeria and credited to the federation account on monthly basis.

By the approval of the four per cent cost of collection, DPR will no longer feature in the Federal Government budgeting process as its operations will now be funded from the four per cent of the revenues it has been permitted to retain.

Investigation showed that the Minister of State for Finance, Mr. Bashir Yuguda, recently wrote a memo to the president on the need to grant cost retention to DPR as other agencies that collect revenues for the government.

Following the memo, the president granted approval that set DPR at par with Federal Inland Revenue Service and the Nigerian Customs Service.

Yuguda broke the news to a Commissioners of Finance Forum that met in Abuja last week. Our correspondent learnt that he justified the approval on the need to treat DPR as other revenue collecting agencies instead of allowing it remain on the budgeting process.

FIRS receives four per cent of its collection as cost incurred. In the month of September, for instance, the service retained N5.84bn from Value Added Tax, Company Income Tax, Personal Income Tax and other taxes collected for the government.

The Nigerian Customs Service, on the other hand, receives seven per cent as cost of collection. In the month of September, the service retained N3.63bn as cost of revenue collection.

In the 2014 budget, DPR was allocated N31.39bn for personnel; N852.03m for overhead and N2.27bn for capital projects, giving a total of N34.51bn.

In the new era, these costs will be taken care of from the four per cent cost of collection approved for the agency by the president. The new dispensation is likely to kick off in the 2015 fiscal year. Punch