Gov. Orji Commissions Umuahia Bus Terminal, 1.5km Ring Road At Ohiya Mechanic Village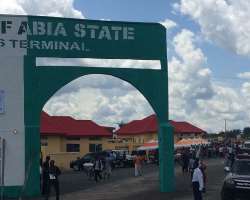 Abia State Governor, Chief Theodore Orji, has begun the commissioning of some of the legacy projects completed by his government.
Flagging off the commissioning at the Umuahia Bus Terminal, the Governor said that henceforth, he would be spending more time in the field commissioning projects scattered in the state.
Among the projects commissioned by the Governor included the Umuahia Bus Terminal along Enugu/Port Harcourt Expressway and the 1.5km ring road at the Ohiya/Nsukwe Mechanic, Spate Parts and Allied Products Market.
According to the Governor, the Umuahia bus terminal will help decongest the city as all buses will take off and return to the terminal daily.
The Governor stated that the project will help bring more development as the urban area is expanding to accommodate more people.
He said that the bus terminal is designed to provide a central place as motor Park and commended the contractor that handled the project for realizing the project.
In his speech at the Ohiya mechanic village, the Governor said that government after relocating the mechanic and spare parts dealers had to provide them with the basic amenities including water and access road.
He pointed out that all the internal roads in the market were done by the Ministry of Works and stated that the new market which is better than the former one has brought further development to Umuahia and appealed to the traders to have confidence in the government
In his speech, the Commissioner for Physical Planning and Urban Renewal, Elder Godwin Nna, appealed to all transport companies that converted residential buildings to motor parks to relocate to the bus terminal before the illegal motor parks are sealed.
The Commissioner for Works, Longman Nwachukwu, on his own appreciated the Governor for giving access road to the mechanic village as well as for providing needed amenities to the market.
Earlier, the chairman, Ohiya Mechanic Village, Mr Aham Agoha appreciated the Governor for relocating them to a better place and creating a conducive environment for them to do their business and pledged their support to his government.
IMAG0291
IMG 6031
IMG 6037