Synagogue Building Collapse: T.B. Joshua to testify on Nov. 5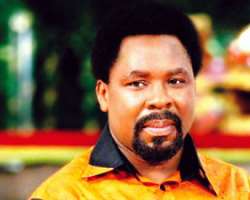 Prophet Temitope Joshua, the founder of the Synagogue Church of All Nations, will on Nov. 5 appear before a coroner's inquest investigating the recent collapse of its guest house.
The Lagos State Coroner, Mr Oyetade Komolafe, announced Joshua's appearance on Friday at the resumption of the inquest at an Ikeja High Court.
The inquest was instituted under the Lagos State Coroner's System Law No. 7 of 2007 for the purpose of unraveling the cause of the incident.
No fewer than 115 persons were reportedly killed, with the majority being South Africans after the six-storey building collapsed on Sept. 12.
Komolafe said the physical appearance of the church's founder was important to the inquest, adding that his lawyer, Mr Jude Nnadi (SAN), should advise him accordingly.
'The court has summoned him, let him come and tell us what he knows. He cannot sit over there and be sending words to us that he cannot come.
'The court has said that for the purpose of what we are doing that he should come over,' the coroner said.
He said the contractor in charge of the collapsed building and the witnesses of the Police would also testify on Nov. 5.
Komolafe also directed the church to provide the list of the people lodged at the collapsed building to the court at the next adjournment fixed for Oct. 28.
'We must expedite action on the issue of the bodies knowing full well that majority of them are not Nigerians.
'One of the most important thing for us is to identify these bodies,' he added.
Meanwhile, a Chief Operational Officer with the Lagos State Fire Service, Mr Musiliu Adebayo, has told the court that the building collapse was not caused by an explosion.
'The number of people rescued would not have been possible if there was an explosion before and immediately after the collapse,' Adebayo.
Also testifying, Mr Bamidele Oladiti, Zonal Head, Lagos State Traffic Management Authority (LASTMA), Ejigbo Area, said its officials helped to reduce human and vehicular traffic after the incident.
Speaking to newsmen after the hearing, Mr Louis Mnguni, the South African High Commissioner to Nigeria, said the unfortunate incident would not affect the relationship between both countries.
Mnguni said the South African Government was putting plans in place to return the corpses of the victims to their relatives after the inquest. (NAN)