Reserved funds: Amaechi gets approval to access N19bn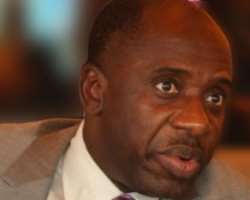 The Rivers State House of Assembly has granted the state Governor, Mr. Rotimi Amaechi, approval to access N19bn from the state's reserved funds which his administration has been saving N1bn every month to address future needs of the state.

In the request, which was read during the sitting on Monday, the governor said the funds would be used to complete ongoing projects in the state.

House Leader, Mr. Chidi Lloyd, who spoke on behalf of the 23 lawmakers that were present in the House, explained that the governor's request did not need any debate.

According to Lloyd, the state government was in need of the funds to pay bills and complete ongoing projects.

The Speaker of the state House of Assembly, Mr. Otelemaba Dan-Amachree, who spoke on the matter earlier, maintained that the government had not been able to pay its bills as a result of financial constraints.

Dan-Amachree argued that it was necessary to approve the governor's request since the state had some money as reserved funds.

Also, the Chairman, House Committee on Finance, Mr. Josiah Olu, pointed out that the N19bn would be taken from the over N50bn saved by the current administration.

He said that, 'It is important for us to tell Rivers people that this was necessary because we are all aware that it has dried up; the money we get from FAAC.

'The Commissioner for Finance and Accountant-General (Rivers State) just returned from Abuja, telling us that there is no money to share to the states.

'So, you know the number of projects the government has embarked upon. It is important we access these funds so that we will be able to pay our contractors. It is also important so that government can function.

'This is money saved by this administration. The sixth Assembly passed a bill that we should be saving N1bn monthly.

'We are not borrowing; I repeat, the Rivers State House of Assembly did not approve for the governor to access funds from any bank. We are accessing our own funds."