Africa Conference For Evangelists 2014 Holds in Porthacourt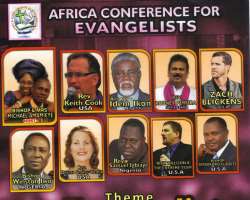 African conference for evangelists will hold in Porthacourt, River State of Nigeria. In a chat with the facilitator of the event, Bishop Michael Amaieye, the conference will be a one of its kind in the recent times.
The conference is open to all evangelists and every one that has passion to evangelize for the Kingdom of God. He promises a full harvest of wisdom, understanding and knowledge at the conference.
The event will hold on the 28th of October to 1st of November, 2014 at Grace Covenant Church, 88 East West Road, Port Harcourt, Nigeria. Confirmed Guests Speakers include Archbishop Idem Ikon (Nigeria), Bishop Winston Iwo (Nigeria), Rev. Keith Cook (U.S.A.), Rev. Samuel Igbiaye (Nigeria), Rev. Donna Smiley-Young (U.S.A.) and others as the Spirit leads.
For more information on the event: https://www.facebook.com/events/290421731127371/?fref=ts