Yemi Alade On #Playlist101 Radio Show With Nsico Michaels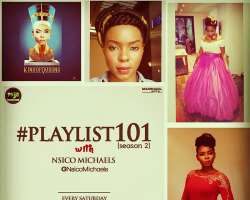 Yemi Alade was this week's Guest Personality on #Playist101 Radio Show with Nsico Michaels on 19jaRadio. This week's Episode was dedicated for reviewing Yemi's debut album - "King of Queens" which happens to be trending lately.
Nsico played 10 lovely Tracks off the Album and during the interview session, he got Yemi to talk about what inspired her to do most of the songs on the album and her future plans concerning the album. One of Yemi's Johnny in the person of Danny P also turned up to officially premiere a response song to her hit track "Johnny".
In case you missed listening to the lovely and fun-packed Episode live On Air, you can now Download it to your mobile devices and also get ready to tune in to next week for another lovely Episode.
#Playlist101 with @NsicoMichaels always goes On Air every Saturdays by 6:PM on 19jaRadio.com