Commemoration Of The International Day For The Eradication Of Poverty- October 17 And The Launch Of AASU Disaster Relief Fund.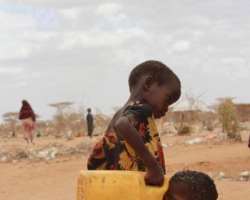 Good Morning
Ladies and gentlemen of the Press,
On behalf of the Secretariat of the All Africa Students Union (AASU) I wish to welcome you to this function. As you may be aware October 17 marks the International Day for the Eradication of Poverty and today people around the world are commemorating the Day with the theme: Leave no one behind- think, decide and act together against extreme poverty. AASU would like, also, to use this opportunity to launch its Disaster Relief Fund.
On October 17, 1987 over a hundred thousand people gathered at the Trocadéro in Paris, where the Universal Declaration of Human Rights was signed in 1948, to honour the victims of extreme poverty, violence and hunger. They proclaimed that poverty is a violation of human rights and affirmed the need to come together to ensure that these rights are respected. In 1993 the United Nations General Assembly, by resolution 47/196, designated this day to promote awareness of the need to eradicate poverty and destitution in all countries.
Though our world has enough resources to cater for the needs of its citizenry, the majority of the people, from mainly developing countries, are rather mired into abject poverty while a tiny minority from developed countries is over consuming.
Africa, as you know, has been the source of all "bad news". A brief look at the history of Africa reveals a continent whose people are unending recipients of international assistance to alleviate their sufferings caused by the numerous crises that have been befallen them. Indeed African victims of natural and man-made disasters have been receiving international supports without any or little contributions from their own people who seem to be, always, helpless.
In that position Africa received a greater share of total global aid, at least 36%, than any other part of the world. It is estimated that, over the past four decades, aid to Africa has quadrupled from around US$11 billion to US$44 billion, with a net increase of almost US$10 billion during the period 2005-2008 alone. African governments, also, have been heavily dependent on bilateral and multilateral assistances and loans to supplement their budgets and undertake developmental projects. But the Continent is still immersed in numerous and seemingly endless difficulties.
Many parts of Africa are engulfed in civil wars/strife coupled with natural calamities like floods, Ebola that are bringing about untold harms and distress on many people who need material, financial and moral supports to mention a few. Unfortunately these people, in need, have to wait for supports mostly from Europe and North America through their Non-Governmental Organizations (NGOs) and Governments before getting any relief. After over fifty (50) years of independence, Africa, a continent of over one billion human beings and abundant natural resources, should be the first point of assistance for its own distressed people before getting help from others.
Currently the deadly Ebola disease is killing, distressing and worsening the already poor economic conditions of people in Liberia, Sierra-Leone and Guinea. The latest statistics from the United Nations World Health Organization (WHO) place the death toll from the Ebola virus outbreak at 4,447, with the vast majority of those fatalities in West Africa. More than half of the dead have been in Liberia.
The rapid mode of transmission of the Ebola virus, the lack of vaccine to cure it and the multiplication of its centers in the West African sub-region is alarming and a threat for the whole world. Aware of the danger of the disease, the United Nations General Assembly has taken concrete action in order to curb this situation by establishing the UN Mission for Ebola Emergency Response (UNMEER).
We have the responsibility, as young people, to create awareness among the broad masses of African people about the Ebola threats to our future and the need for the collective engagement of everyone in all efforts geared towards thwarting it and bringing assistance to the victims.
It is against this background that the All Africa Students Union (AASU), today, sets up a Disaster Relief Fund in collaboration with its partners in order to impel Africans to take collective actions to enable them become the first providers of assistances to their people in need in particular students/youth, women and children who are, always, the most affected.
In line with the above the Union, as a matter of urgency, is seeking donations such as foods, medicines, clothing, medical equipments, cash etc. in support of victims of Ebola specially the three National Students Unions in Liberia, Sierra-Leone and Guinea.
Cash contributions should be sent to the Account details below:
1) Account Name: All Africa Students Union (AASU)
Bank: Bank of Ghana
Account Number: 1018631522254
2) Contributions in kind should be sent to the following address: AASU-Secretariat, State Housing Complex (SHC), Ring Road Central and Opp. Awudome Cemetery Accra.
In this endeavour we are, equally, calling on all Educational Authorities to take all the necessary Ebola preventive measures in their respective Institutions of Learning in order to stop the spread of the disease.
AWAAH FRED
(Secretary General)